Exclusive Interview: Miss America Betty Cantrell Reveals Hidden Talent, Very Unusual Pets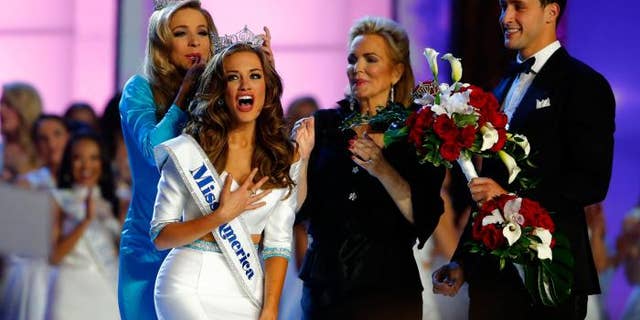 NEWYou can now listen to Fox News articles!
"I am extremely excited and over the moon! I can't believe that it's actually me representing the Miss America organization."
It's been 62 years since a contestant from Georgia has won the Miss America pageant, but Betty Cantrell put forth an effortless performance to beat out the 51 other women competing for the crown in Atlantic City this past weekend.
Cantrell's win comes after three Miss New York contestants went on to become Miss America title-holders for the last three consecutive years. "I pressured myself because I wanted to be the one that brought Georgia back," she says. "I thought it was time for the South to make a name for itself again."
And that's exactly what she did.
However, the 21-year-old junior at Mercer University definitely raised some eyebrows during the interview portion of the competition, when she was asked whether or not she believed New England Patriots quarterback Tom Brady had knowingly cheated in the last Super Bowl.
"The question really did catch me off guard … it was unexpected," she tells Fox News Magazine. "I'm a theater person; I'm not a sports person! Football is not really on my radar, and I like to leave that question up to the sports fans."
Another highlight during the competition was Cantrell's incredible singing voice during her rendition of "Tu Tu Piccolo Iddio" from Puccini's "Madama Butterfly." Although the crowd cheered her on to an immaculate performance, surprisingly, Cantrell says she wasn't sure she could even pull it off.
"The night that I won the preliminary talent award, I was actually sick. I had a sinus infection and I was really nervous about singing my song," she admits. "When they did call me to sing as a top ten finalist, I was praying that my voice would have recovered. I didn't know if it was going to sound good or not." (Needless to say, the applause from the audience brought her some comfort.)
The humble beauty queen will have a lot on her plate during her reign. As an advocate for a healthy lifestyle, she will be pushing her platform, "Healthy Children, Strong America," which she was inspired to pursue by her parents.
"My parents are both nutritionists and physical therapists. They were always drilling us [siblings] about eating healthy and exercising, and that was always really important in our household. But then I realized, not everybody is as fortunate to have parents drilling them about this, and that's when it struck me. So I wanted to make this my main focus, to ensure that children are growing up eating healthy."
Growing up on a farm in a small town in Georgia also gave Cantrell a unique set of skills. For starters, she could probably teach fans a thing or two about driving a John Deere tractor and plowing fields. And, this self-proclaimed country girl even grew up taking care of some very unusual pets, including snakes, birds, chipmunks, a possum, and a flying squirrel.
Yes, you read that right. A possom and a flying squirrel.
Cantrell truly is a well-rounded young woman who works hard and dreams big. She hopes to make it big on Broadway, and if given the opportunity, would love to sing a duet with Idina Menzel and Carrie Underwood someday.
And if you catch her during her downtime, you'll find her practicing her accents and impersonations. "During the two weeks I was hanging out with my Miss America sisters, they were always asking me to do my Lois Griffin impression from 'Family Guy'!" she chuckles.
Personally, we can't wait to see Cantrell in action. (And we wouldn't mind a taste of that "Family Guy" impression, either.)
Congratulations to our new Miss America.