ESPN appeared to be moving away from politics until Max Kellerman slammed Tiger Woods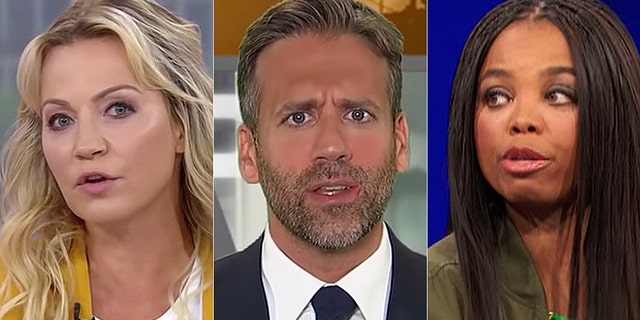 Just when it seemed like ESPN was moving away from far-left politics and making changes to return to the sports network's nonpartisan glory days, "First Take" co-host Max Kellerman made headlines by slamming Tiger Woods' response to questions about President Trump.
ESPN became increasingly liberal under former ESPN President John Skipper, who left the network last year when a drug dealer attempted to extort him by using his cocaine habit against him. New boss Jimmy Pitaro has declared that he wants less politics on his airwaves. "I will tell you I have been very, very clear with employees here that it is not our jobs to cover politics, purely," Pitaro recently told reporters.
This past weekend, it appeared that Pitaro's plan was put into action.
Outpoken feminist Michelle Beadle was taken off struggling morning show "Get Up!" and anti-Trump host Jemele Hill reportedly agreed to a buyout of her contract and will exit the network on Friday.
In September 2017, Hill tweeted, "Donald Trump is a white supremacist who has surrounded himself with other white supremacists." Hill also called Trump a "bigot" and "unqualified and unfit to be president." She added, "If he were not white, he never would have been elected."
Hill's anti-Trump comments caught the attention of the White House and Press Secretary Sarah Sanders, who said she considered the rhetoric a "fireable offense." Trump even got involved himself, mocking Hill and ESPN's lackluster ratings.
As for Beadle, she once told white men to "shut up and listen" and recently declared she was done watching football because of the way the NFL and NCAA handled domestic violence issues.
Under Skipper, the network was accused of spending too much time covering Colin Kaepernick's protests and was criticized for awarding the Arthur Ashe Courage Award to Caitlyn Jenner. Far-left voices were rewarded with high-profile gigs, while conservative personalities such as Curt Schilling were silenced (Schilling was fired in 2016 after sharing a Facebook post regarding the North Carolina law that banned transgender people from using specific bathrooms).
With Hill's exit looming and Beadle now focusing on NBA coverage, as opposed to the news-of-the-day content that consumes "Get Up!," it seemed like ESPN was actually taking steps to distance itself from politics.
The network still employs anti-Trump former MSNBC star Keith Olbermann, but he's stayed relatively quiet when it comes to spouting political opinions since ESPN announced his expanded role under Pitaro.
"I suspect ESPN's focus here wasn't on Olbermann's left-wing mania, it was on his role at ESPN in the 1990s. Olbermann's hire was an attempt to send a message that ESPN was getting back to what made it great," author and radio host Clay Travis wrote on Monday when offering his thoughts on the political landscape at ESPN.
Travis, a frequent critic of ESPN, regularly referred to Hill's and Michael Smith's now-defunct, urban version network's flagship 6 p.m. ET "Sportscenter" as "WokeCenter" because the show regularly touched on politics.
"They finally have executives in charge of the business who have realized WokeCenter is bad for ESPN's brands. Sports fans don't want to see sports and left wing politics mixed ad nauseum," Travis wrote. "The best way to cure a toxic brand? Get rid of the people who made that brand toxic."
Travis and other critics of ESPN noticed Pitaro's changes were making an impact and the network was finally receiving praise for moving away from politics when Kellerman spoke out against Woods.
The golf legend said over the weekend that Trump is the president of the United States and should be respected.
"You have to respect the office. No matter who is in the office, you may like, dislike personality or the politics, but we all must respect the office," Woods said on Sunday.
Kellerman blasted Woods' remarks, saying it was a "thoughtless statement dressed up as a thoughtful statement," while essentially calling Woods dumb for having his own opinion.
"And it either holds in contempt the intelligence of people who hear it or else it's just a stupid thing to say. … To say you must have respect for the office — Tiger, be clear. Are you saying that the office, therefore, confers respect onto its present temporary occupant? No. Having respect for the office means principally, in my view, is the office holder should have respect for the office," Kellerman said.
ESPN enjoyed a few hours of positive coverage for the recent changes before Kellerman decided to dive into the political arena. Social media is now filled with users telling Kellerman to "stick to sports" and his monologue has been criticized by everyone from conservative pundits to fans who simply want to enjoy a nonpartisan sports show.
Now, as opposed to articles praising ESPN for returning to its non-political glory days, the internet is filled with headlines such as, "ESPN host can't handle Tiger Woods saying 'you have to respect the office' of the presidency."
Travis, the frequent ESPN critic who actually complimented the network earlier in the day took to Twitter to offer his thoughts.
"Sigh. Utterly predictable. Tiger Woods said he respects the office of the president & ESPN called him stupid for it," he wrote.
Fox News' Ryan Gaydos contributed to this report.