Dustin Hoffman accusers thank John Oliver for his support in open letter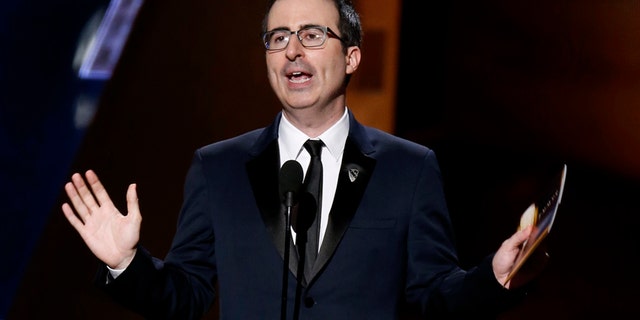 A day after speaking out about his recent altercation with Dustin Hoffman, seven accusers, who have called out the Oscar-winning actor for sexual assault, thanked John Oliver "for putting himself at risk" in an open letter.
On Wednesday morning, Anna Graham Hunter, a Hoffman accuser, took to Twitter and shared a brief but detailed letter thanking Oliver for confronting Hoffman over claims that the "Rain Man" actor had sexually harassed some women years ago.
Hunter, along with six other Hoffman accusers, praised the HBO host for asking the hard questions even if "the questions you asked may not have led to the constructive conversation you hoped for," but "the fact that you asked them at all is what matters most."
The letter goes on to say that while women can continue to tell their assault stories, things will only change if men reflect upon their behavior and inspire others to do the same. Five women signed the letter with their names while two chose to remain anonymous.
On Friday, the "Last Week Tonight" host made an appearance on "The Russell Howard Hour" where he was asked by the comedian about his recent public confrontation with Hoffman. During a 20th anniversary screening and Q&A of Hoffman's "Wag the Dog" in early December, Oliver questioned the actor about the sexual harassment allegations that were made against him.
Though Oliver took a shot at addressing the scandalous rumors surrounding Hoffman, he explained to Howard that he had "failed" in getting the answers he wanted.
"It felt unavoidable and that we had to have a discussion about it," Oliver said Friday on the British comedy news show. "It wasn't ideal that it became such a big story because then it became about my questions rather than his answers. The questions weren't particularly remarkable, but his answers were kind of not great."
Hoffman denied the allegations during the event.
Oliver also revealed to Howard that he had warned the organizers of the screening that he was going to bring up the allegations in the Q&A, but it is still unclear whether or not the organizers notified Hoffman of Oliver's intentions.