'Duck Dynasty': 5 things you should know before watching the finale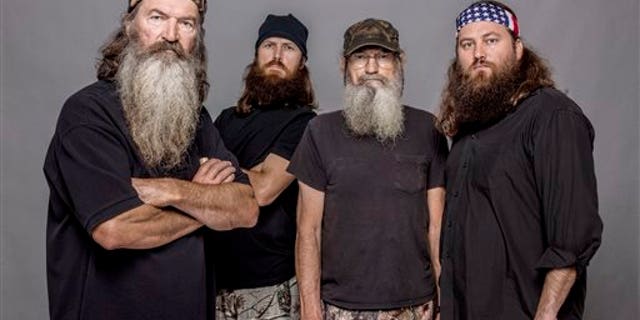 Aw shucks, y'all -- "Duck Dynasty" ends its third season Wednesday night.
That is god-dog bad news for the people who enjoy watching forest-dwelling duck-hunters trade jokes.
Wait, what — you've never seen "Duck Dynasty"?
In a nutshell: A&E's "Duck Dynasty" follows the Robertson family like "Keeping Up with the Kardashians" follows the Kardashians. It's a modern-day "Beverly Hillbillies," except it's apparently real.
Who are the Robinsons?
The Robinson family company, Duck Commander, makes duck calls — and makes a lot of money doing it. You can tell by the fancy houses they live in. Phil Robertson started the company, and now Phil's son, Willie, runs the company. Willie tells everyone else what to do — that's all you need to know.
"Duck Dynasty's" ratings are big. The slickly produced A&E half-hour docu-comedy racked up this season around 8 million viewers weekly. Among the coveted 18-49'ers — it's second on all of cable after "The Walking Dead."
Golly gee.
As "Duck Dynasty" drops the curtain on this season, here are five things to know about the show.
We don't know yet if there will be a fourth season yet — the business-minded boys are refusing to do the show unless they are paid $200,000 per episode, THR.com reports.
So in case, Robertsons, you don't get your payday, it was good knowing you.
Duck Dynasty dominates ratings
1) Uncle Si. Pronounced "sigh." The cast's most natural entertainer. Wiry. Craggy with life experience. Fan favorite. He cracks jokes and says "Jack" a lot — as in "Where are you going, Jack?" He shoots his gun at random at fallen trees -- saying he's shooting at snakes. While he's often trying very, very hard to get attention, he brings the funny.
2) Beards. Long beards the five Robertson men view as a sign of masculinity. They seem gross — who knows how much they groom those. Beards are incorporated into the trademark of the show -- ZZ Top grants their song "Sharp Dressed Man" as the opening theme. These beards are so ... grimy.
3) No 'Jackass'-inspired action or bad country stereotypes. "Duck Dynasty" doesn't rely on edginess or violence. It broadens the audience. Even mags like Us Weekly and People like these guys. Instead of violence, a family prayer at the end that usually touches on religion. Wholesome as a glass of milk. No one gets hurt. Also, no flagrant misuses of country stereotypes, like, say, "Here Comes Honey Boo Boo." They fit comfortably into their skin. Not everyone finds their celebrity welcome, though — when the cast was scheduled to appear Feb. 26 on "Jimmy Kimmel Live," the singer Morrisey refused to appear — citing the offensiveness of the family's killing of ducks as a livelihood.
4) Duck Dynasty's finale follows the crew to Hawaii. Willie flies the crew to the Aloha State — but his plans are usurped by the group's excitement to go have their own adventures. Just like the Brady Bunch, kind of! Let's hope they go parasailing.
5) What could we use more of? Serious storylines. That run multiple episodes. Not just plots like John Luke's teenage love life. It's creepy. Like if someone is dealing with an ongoing illness or personal struggle. We need more struggle in a show about hunting ducks.
"Duck Dynasty's" finale is Wednesday, April 24, at 10 p.m./9 CST, on A&E.

Click here for more from TVGuide.com