Drake fan, 11, who got surprise hospital visit from rapper learns she's getting new heart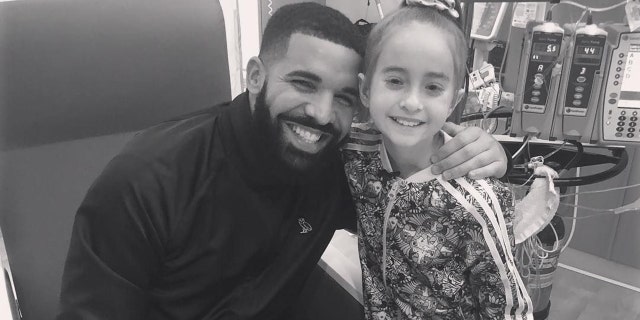 NEWYou can now listen to Fox News articles!
An emotional video shows the moment an 11-year-old Drake fan found out she's going to get a heart transplant.
A clip of Sofia Sanchez's reaction to the news was posted on Facebook Sunday.
"My birthday wishes are - and it did happen, well one of them did - to meet Drake," the youngster explained, calling their meeting at a Chicago hospital "great."
"My other wish is to get a heart," she said. "Which is gonna happen soon."
A voice off-camera then told her the big news: "It happens today. You're getting a heart."
TIFFANY HADDISH SAYS DRAKE ASKED HER OUT BUT STOOD HER UP
"I'm getting a heart Mom?!" Sanchez asks. "Oh my God."
The video has already been viewed more than 80,000 times as of Monday afternoon.
"Try to watch with out crying 😢... thank you lord baby jesus ! Sofia gets her second wish #godsplan," Sanchez's cousin, Joshua Virgen, captioned the video — referencing the Drake song of the same name.
Drake visited Sanchez at the Ann & Robert H. Lurie Children's Hospital of Chicago on Aug. 20 — two days after she turned 11.
The rapper had seen a video of Sanchez dancing to his famous song "In My Feelings," which has become host to a viral dance craze. The video, posted by the hospital on Aug. 15, quickly went viral.
DRAKE SURPRISES 11-YEAR-OLD GIRL AWAITING HEART TRANSPLANT AFTER SHE DOES 'IN MY FEELINGS' CHALLENGE
In the viral clip, Sanchez is seen dancing alongside her cousin in a hospital hallway while "tethered to her IV pump." In a follow-up video, the young girl asked Drake to visit her, as he was performing in Chicago at the time.
Drake met the young girl, and marked the occasion with a sweet selfie of the pair. He also apparently gifted her a hat with the word "Scorpion," the title of his fifth studio album.
The children's hospital wrote online Sanchez was diagnosed with cardiomyopathy, a condition which makes it difficult for the heart to pump blood and can lead to heart failure, according to the Mayo Clinic.
Earlier this summer, the 11-year-old underwent open heart surgery to connect a mechanical pump to support blood flow.
Fox News' Nicole Darrah contributed to this report.