Dr. Phil goes full rock star to perform with Good Charlotte on 'The Late Late Show with James Corden'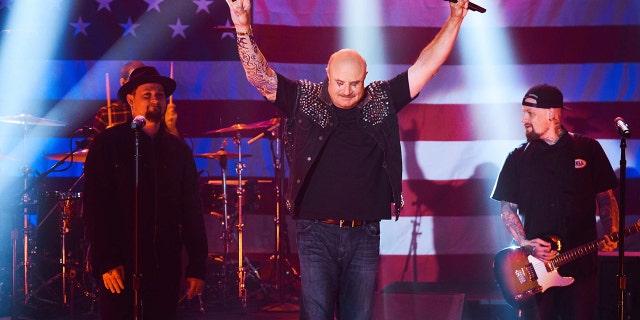 Dr. Phil may have found his new vocation as a professional rock star.
The TV personality joined rock band Good Charlotte in a recent sketch for "The Late Late Show with James Corden" where he committed full-scale to the rock-n-roll look.
In the video below, Corden claims to be a music performance enhancement coach bent on making Good Charlotte, "Great Charlotte." That's when he introduces the band to Dr. Phil, who enters the room excited to take on his new persona as a rock star. However, Good Charlotte band members Benji and Joel Madden, 39, are skeptical.
From there, Phil suits up and joins the boys on stage for a performance of their 2002 hit, "Lifestyles of the Rich and Famous." Halfway through the live performance, Phil takes the stage and does his best to keep up vocally with the fast-paced song.
At first, Corden is patting himself on the back, but as Phil's voice begins to flounder and the bandmates look visibly shaken, he quickly realizes he made a mistake.
The tongue-in-cheek sketch ends with Corden calling up Rolling Stones members Mick Jagger and Keith Richards to suggest the addition of Judge Judy to their ensemble.
You can watch Dr. Phil's performance below.