Don't be a Kardashian! Model Nicole Clark teaches teen girls to navigate dangerous mainstream media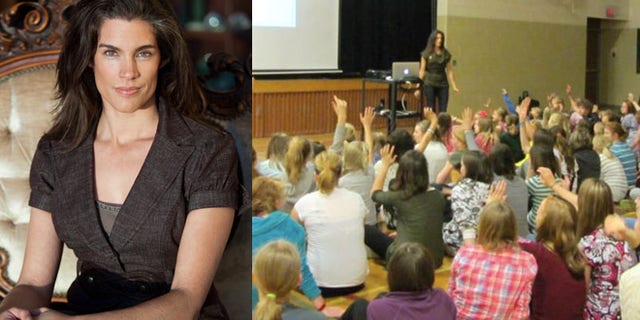 NEWYou can now listen to Fox News articles!
LOS ANGELES – These days, some teens and tween girls dream of growing up not to become doctors, mothers, or mathematicians, but the next Kim Kardashian, Real Housewife, or Victoria's Secret bombshell.
Former model Nicole Clark has made it her personal mission to enter schools and help young women realize there is much more to life than being prized for your beauty (or much worse), and that what they see and hear in mainstream media can be extremely dangerous.
"My workshops for girls are called 'Clever Girl Workshops,' 'Seeing through the Media Matrix' for high school students, and 'How to Get a Kung-Fu Self-Esteem' for middle school students. My husband teaches workshops for boys and young men called 'Wise Guy Workshops," Clark, who left the fashion/modeling world at the peak of her career when she felt she was doing a disservice to women, told FOX411's Pop Tarts column. "During my first workshops I saw the light of understanding flash in the eyes of over 100 girls and I realized the power of my message and insights. They learned tools to immunize themselves to the manipulation of the media and build their self-esteem."
Clark created her unique workshops to assist girls who are routinely bombarded with false messages about what is important in life, and to inspire them to pursue careers that aren't founded simply on one's physical appearance, or ability to be really bitchy.
"Many girls are already very unhappy, I have seen how it is perpetuated by the media, so by sharing my workshops with girls, I can help them defend themselves against the media's mission to derail them by brainwashing them into believing their purpose is to be skinny, sexy and shopaholics," Clark, who also directed the recent body image-focused documentary "Cover Girl Culture" continued. "I know in my heart that the majority of girls' dreams are not really to be a professionally pretty (aka model). That idea was planted in their minds. I want to help girls remember their true dreams."
Over the course of an hour-long workshop, typically before 100-500 students, Clark shows kids how to decode ads and imagery from various types of media. Students learn the motto many advertisers operate under – "Get Them While They're Young" – and Clark subsequently teaches tools to maneuver them through media, while sharing her own personal experiences from the modeling world .
She says the response has been overwhelming.
"It helped me through my own troubles of comparing myself to the models in the ads," said one young student, Morgan. Another eighth grade student, Evelyn, remarked that the workshop helped her recognize her own eating disorder and led her to seek help. In response to one session, 119 girls at a school in Miami wrote to Teen Vogue demanding healthy change, and teenagers from Louisville High School in Los Angeles have started their own club based on the message taught via Clark's talks.
Clark's latest endeavor has been to conduct workshops for parents, designed to help them to understand what their young ones are up against, and how to best navigate media saturation.
"Media is great and can be used for good, should be used for good, especially when our children are involved. Parents learn the same tools as their children learn," she said. "My aim is that one day the media aimed at children and teens will be on their side, instead of working against them. It will mean I'm out of work, but I welcome that day."