Dita Von Teese Gives Us a Lesson on How to Seduce — And You Won't Believe What She Reveals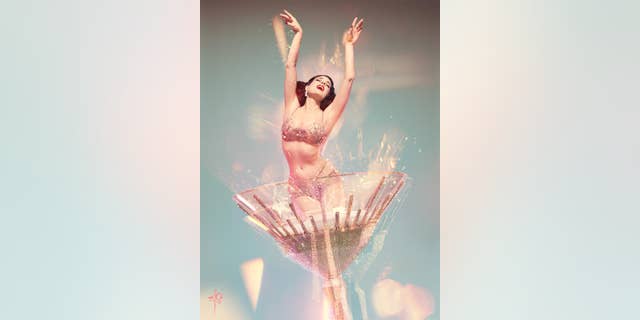 The reigning queen of burlesque is determined to make 2017 sizzle — but first, she's teasing fans with a taste of what they can expect in the New Year.
Dita Von Teese recently announced a brand new burlesque show, titled "The Art of the Teese," which is her biggest American tour yet. The raven haired, emerald-eyed pinup has teamed up with fashion designer/royalty favorite as well as footwear maestro Christian Louboutin, to deliver more glitz and glamour than ever before. But then again, we expect nothing less from the soft-spoken dancer, who has made pulses race across the world with her acts, like the one in which she peels down to her pasties in a giant martini glass, or the one where she disrobes to reveal a jewel-encrusted corset before riding a mechanical bull, of the time she fanned her dreamy, nearly-naked figure with massive ostrich feathers, to name a few.
But 2017 is going to be extra special — not just for longtime fans of Von Teese, but for curious newbies alike: She, along with an all-star cast featuring some of the best burlesque performers in the industry, will visit her native Michigan to perform for the first time in over a decade.
Before Von Teese struts her stuff at a stage near you, Fox News Magazine wanted to find out a few things, like what it really takes to kick off a jaw-dropping spectacle that celebrates women, and if she has any lessons on mastering the art of seduction.
FNM: Longtime fans are very much familiar with your shows. Why should new, curious viewers check out "The Art of the Teese"?
DVT: To experience a spectacle that they've never seen before! I believe anyone who is curious about what burlesque is exactly will want to see it for themselves. And it's funny, a majority of my audience happens to be female. It's a really a sea of fashionable glamour girls. [Burlesque] has really become this unlikely modern feminist movement. Many female performers have transformed burlesque — something that may have been considered shameful in the past — into a body-positive, empowering celebration. It's a very interesting time right now and I've certainly watched my fanbase shift since I first started. Burlesque has become this cultural phenomenon, like during its heyday in the '30s and '40s.
FNM: Some of the acts from "The Art of the Teese" have never been seen before. Could you tell us more about that?
DVT: Well, I've been touring in my other show, "Strip, Strip Hooray!" for about five years now, and we go back to certain cities like four, five times. They always sell out, and people just love the show. But, I was also thinking about how I can keep the spirit of what makes this tour successful, but also show people something new, or at least have audiences see something in a new way. For example, I'll always have my Martini Glass act that has made me famous. But I'm always thinking of new ways to do it, such as new costumes, new choreography, new music and new sets. I have a warehouse full of props, sets and costumes that I haven't really used that much, honestly.
For this tour, I wanted to give my audience the experience of my show at the Crazy Horse in Paris, so I'm staging that in a new way with new costumes. There will be pieces designed by Jenny Packham and shoes by Christian Louboutin, of course. And one day this year, I woke up and said, "Why don't I have male backup dancers?! Instead of having pinup girls hand me my fans and take away my costume on stage, why don't I have a couple of handsome men in there to help me undress?" That certainly added a whole new element to the show. I guess I'm always thinking about how I can keep my shows fresh and exciting for the fans and curious newcomers. It's a great way to show people things, in person, that perhaps they've read about in my books. It also challenges me as a performer.
FNM: Which would you say has been the most difficult act for you to bring to the stage, and why?
DVT: Probably one that I did on my last tour, which was set in an elaborate Chinese-style opium den. There were a lot of problems getting the right Swarovski crystals that we needed because they were a really special stone. We're talking about getting 350,000 stones for the costume. There was also the orchestration. I have all of my music in the shows made with real instruments, which can be a big undertaking to create. I also reach these creative blocks involving what I was going to do in the number! I think that one took me the longest. I'm not performing that one in this tour, but I'm performing another one that did take me quite a while. It was actually a show I originally created for the Crazy Horse. [That venue] has a small stage, one resembling a jewel box. So I had to give that act a makeover of sorts to make it more lavish for a bigger theatre. That's the undertaking I'm engaged in at the moment.
But there's always a challenge with every show. For example, I bought a mechanical bull once in Texas and, well, there were a lot of things to do with that. There's always questions, like, "Will this even work?" Keep in mind, I'm the only producer. I'm not just a girl who is handed choreography, costumes and props by someone else. I'm involved hands-on in every aspect of the show. It's high stakes!
FNM: What's the most unique encounter you've ever had with a fan?
DVT: Oh gosh! I love my fans … I have very eccentric fans. There will be touching moments in the audience. Like, I'll see three generations of women, daughter-mom-grandma, watching the show together. That's always really fun for me. I once saw a drag queen break her shoe and fall, but quickly declare, "I've just had the best time of my life!" People are very supportive of each other at the show. I love that people come out dressed up and they're not afraid of being themselves at the shows. It always touches me when people come to my shows and leave feeling inspired about their bodies and wanting to not just accept themselves, but to glamorize themselves in ways that they may not have been brave enough to do before. We also have a dance contest at every show, and I film that every night so I can watch it because people get really wild with that.
FNM: You're bringing the tour to your home state Michigan for the first time. Why the long wait?
DVT: Well, I was really nervous for a long time. I would continuously go to the cities that I know love the show, like San Francisco, New York, Dallas and Houston. Remember, I'm the producer of the show, so I have to sell 95 percent of the tickets just to break even. The tour is definitely not a huge money-maker for me. It's really a labor of love. So I've always had concerns about visiting new cities where I'm not sure if we'll sell enough tickets to cover the costs of production. But for this tour, I decided to take a chance and go to new places. We sold the Detroit show out in the first week and we just added the Grand Rapids show. I'm most excited to be in Michigan because I haven't performed there since probably 1992 or 1993 when I was headlining a strip club! And I don't think anyone was even there!
I'm really proud that my home state is supporting the tour and I'm excited for us to come.
FNM: Any advice for women who have trouble feeling glamorous?
DVT: Well, I just turned 44, so I definitely have lots of advice! At one point I was actually thinking about retiring. As I got older, I wasn't sure how long I could continue performing, and people constantly asked me when I was going to stop. But I looked around me and saw women I admired who are older than I am, who are sexy, beautiful, and still performing. I felt like I was succumbing to an ageist mentality, so I started thinking about that, as well as all the performers in burlesque whom I feel are showstoppers, and they're all over 30! I have a lot of idols from throughout history, and it's not like we don't already know that "with age comes wisdom."
Some of the most potent, erotic wisdom you can learn as a woman doesn't come until you're in your 30s and 40s. Look at people like Mae West, who made her first film at age 40 and was the biggest sex symbol in Hollywood during the 1930s. I think we need to drop the age mentality and not let it get to us. Instead, we need to think about the things we cultivated over the years. Those are the things that make us sexy and memorable.
I'm not the youngest performer in burlesque. I'm not even the prettiest. I'm not the one with the best body. There's a lot more to burlesque than just being sexy. It's really all about confidence. It's about embracing your body for what it is without asking permission.
FNM: How does one practice the art of seduction?
DVT: Well, when I think about the art of seduction, I don't think about seducing someone. I think about how one becomes effortlessly seductive. And the way that you do that is by practicing in everyday life, and surrounding yourself with things that make you feel good, things that are pleasurable. I believe in creating a sensual home space that makes you feel good with beautiful lighting that's flattering to the way that you look. I like to paint my walls the color that I look good in! I just like to live in a seductive way in everyday life.
If you think too much about how to seduce someone else, it's an epic fail. To seduce someone is to make them want to know more about you, to be part of your world. So if you are trying to please someone else, you're failing at seduction. I always say to think about yourself and how you present yourself to the world and how you practice that every day. I believe in wearing my nice lingerie every single day. It's a moment that doesn't take any extra time out of your day. It's also a small way to exude glamour and beauty in everyday life.
If you want to seduce someone — that's not really the way. Men don't want you to do that anyway. Finding your own confidence is really the key. Discovering your strengths and embracing them every day is how you ultimately master the art of seduction.