'Dancing with the Stars' recap: Maks is back for the semi-finals and someone is sent packing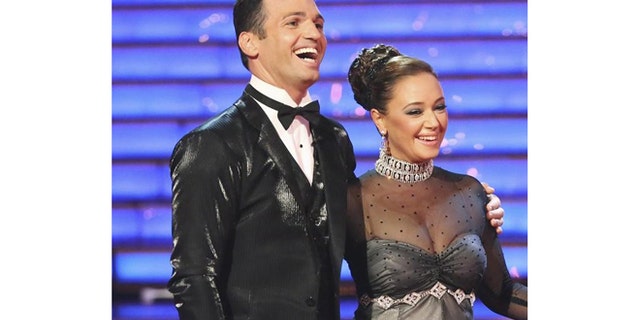 Maks is back! It's the semifinals of "Dancing with the Stars'" 17th season (that's gone by quickly, no?), and the five remaining couples are vying for a spot in next week's final. They'll also be out to impress guest judge and former "DWTS" cast member Maksim Chmerkovskiy, in addition to the regular trio of judges. Tonight's theme is electric/acoustic, with each pair dancing to two versions (one the normal version, one stripped-down) of the same song.
Leah Remini & Tony Dovolani (Paso doble)
Leah and Tony opt for Lady Gaga's "Bad Romance" as their song of choice, and have been working on their "sexy faces" to go along with the routine. Leah looks a little less sharp on this number than she has in the past two weeks, but it's still impressive and miles ahead of where she was when she started the competition. Len calls the performance "a little bit careful" and advises them to "come out and give it some willy" for Round 2. Whatever that means. Carrie Ann and Bruno point out that she missed a couple of turns.
Score: 32 (out of 40)
Corbin Bleu & Karina Smirnoff (Tango)
Karina promised drama in her and Corbin's routines when we spoke this week, and they certainly deliver, with a flaming tango set to Fall Out Boy's "Light 'Em Up" — complete with glitter! The dance lives up to the song name, with the entire ballroom appearing to go up in flames. Karina's dancing in front of her former fiancé, Maks, but doesn't let the pressure get to her and looks to be having a blast out there. And once again, Corbin has no problem taking charge. They're so dynamic and fun, but the judges feel otherwise: Bruno nitpicks at their frames and gets booed, while Len says it was "too full on" for a tango.
Score: 35
Jack Osbourne & Cheryl Burke (Jazz)
Jack's thrown for a loop this week because he's having some vision problems and pain in his arms as a result of his MS. Like Corbin and Karina, he and Cheryl also opt for a little storytelling with their routine to The Police's "Roxanne." Jack looks sharper than he has in previous weeks, and keeps his facial expressions in check, which will surely please the judges. It's also really sweet to see big sister Kelly give him an enthusiastic standing O at the end. Len says the dance "lacked finesse" and again calls the routine "too full on." Who spit in his tea tonight?!
Score: 33
Bill Engvall & Emma Slater (Tango)
Can anything stop the juggernaut that is Bill and Emma in this competition? They seem to have the fan vote cornered — but Bill makes it clear that he wants to advance based on their scores, not on viewer votes. His weight loss after 12 weeks in the competition is really noticeable this week, and he also suffers a groin injury during rehearsals. Their faux workout routine to LMFAO's "Sexy and I Know It" is cute and funny, but it's pretty clear that Bill's being a little cautious, probably mindful of his injury. Even his run to the judges' table at the end is a little halfhearted. Will this week be the end of the road for them? The judges are already talking to Bill like this will be his last outing. "You may not be the judges' champion, but you are the people's champion," Len tells him kindly.
Score: 28
Amber Riley & Derek Hough (Jazz)
Amber finally goes to the doctor to get her knees checked out this week and finds out that she has no risk of doing permanent damage, so she says she's got the eye of the tiger and is in it to win it. For the first part of the dance, she actually matches Derek step for step — except they're seated behind a desk and not actually stepping. But once they finally stand up, it's clear that Amber is (finally?) giving it her all. Derek's choreography is the best of the night so far. They're rewarded with a lengthy standing ovation from the audience. Bruno calls it "totally fierce" and Carrie Ann compares Amber to a dancing Einstein.
Score: 39
Let's see how everyone fares in Round 2, where the friends and family interviews ahead of the dances are a nice touch.
Leah & Tony (Tango)
The best part about this routine, set to a string version of "Bad Romance," is Tony "playing" the sequined violin on the back of Leah's dress. Okay, not the best part; the dance itself is pretty good too. Leah is poised and controlled, and while it's not as entertaining as their paso doble, it's probably more technically proficient — not to mention more sensual. Len said she never "fully embraced" the dance. Carrie Ann and Maks agree for once, telling Leah to show more emotion if she and Tony make it to the final.
Score: 33
Corbin & Karina (Rumba)
The glitter's back! But Corbin's shirt is nowhere to be found for the sultrier half of their performance tonight — something that Carrie Ann thanks him for in her critique. Heh. The chemistry between Corbin and Karina is insane. Bruno compares it to watching sculptures "in perpetual motion." Maks sweetly tells Karina she's one of the top five dancers of all time, and in return she gives him a kiss (much to the chagrin of Bruno, who's been blatantly flirting with Maks all night). And we have our first perfect score of the evening!
Score: 40
Jack & Cheryl (Tango)
They should have subtitled Ozzy Osbourne's comments during Jack's friends and family package, but the basic gist came through in his mumbles. Jack and Cheryl definitely put on the red light for this seductive number, both with the lights and with their outfits. Jack nails the lifts, and maintains focus and control throughout. This might be their strongest dance yet, and the judges eat it up. "You were as slick as a prowling panther," Bruno tells him.
Score: 38
Bill & Emma (Tango)
Bill fares a little better with the second routine, probably because it's a little slower than the first and he clearly isn't as worried about his injury flaring up. Or maybe he's just extra motivated by the judges' earlier comments. He also maintains a serious expression throughout the dance, for maybe the first time this season. Maks compliments Emma on making it this far in the competition in her first year as a pro. "I don't know if you've got the skill to win, but you've got the will to win," is Len's backhanded compliment.
Score: 32
Amber & Derek (Viennese waltz)
Their waltz looks like the first dance between a married couple in a fairy tale. Carrie Ann compliments Amber for adding her own special touch to Derek's choreography, and Bruno tells her she dances "like an angel." And it's perfect score No. 2!
Score: 40
Alas, the dream must come to an end for one couple, so who will it be? Derek and Amber lead the way with 79 points from tonight, while Bill and Emma are bringing up the rear with 60.
In the finals: Corbin and Karina, Amber and Derek, Jack and Cheryl
In jeopardy: Bill and Emma, Leah and Tony
Eliminated: Leah and Tony. It's somewhat surprising.It's a toss-up between Leah and Jack for who has shown the most improvement over the course of the show, and Jack just outshone her tonight, unfortunately. Bill and Emma might just win this whole thing.
Click here for more on 'Dancing with the Stars' from TVGuide.com