'Dancing With the Stars' recap: Kellie Pickler shines, Wynonna Judd struggles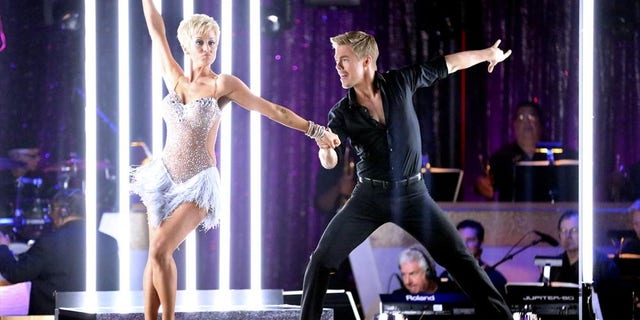 It was "Prom Night" on ABC's "Dancing with the Stars," and country star Kellie Pickler continued to dominate the competition, wowing the judges with her energetic jive to "Footloose" with partner Derek Hough.
"Sharper than a samurai sword" raved judge Bruno Tonioli.
"Ridiculously amazing," cheered judge Carrie Ann Inaba.
Pickler also earned the title of "Prom Queen" from her fans on Twitter, who tweeted #promkellie throughout the night. At one point, the hashtag trended worldwide.
The "American Idol" star and Hough earned the highest score of the evening, with 25 out of 30 possible points.
Disney star Zendaya Coleman and partner Val Chmerkovskiy trailed just behind, earning 24 points for their Viennese Waltz danced to "Que Sera Sera."
"That was as enchanting and charming as Venice in the moonlight," Tonioli praised. "Overall, beautiful."
Last week, professional boxer Victor Ortiz and "Real Housewives of Beverly Hills" star Lisa Vanderpump were spared from elimination when Olympic figure skater Dorothy Hamill withdrew from the competition due to a back injury.
This week, the Vanderpump and her partner took the opportunity to redeem themselves by improving their dance numbers–and their vote-getting strategy.
"We're desperate," pleaded Vanderpump, who instructed partner hunky Gleb Savchenko to "get (his) kit off" as a cheap ploy to garner more votes.
But Vanderpump didn't need to resort to gimmicks to get votes, as she and partner Savchenko went from flat-footed to fearless with their romantic interpretation of the Viennese Waltz.
"It was bright and breezy, free and easy," said judge Len Goodman. "There was an air of lightness about it."
Ortiz, meanwhile, managed to impress the judges with a graceful barefoot Contemporary dance to "Slow Dancing in a Burning Room," athletically lifting and spinning partner Lindsay Arnold with ease.
"Victor–you're a dancer," declared Inaba. "That was breathtaking!"
"The lifts were very, very good," added Goodman. "Your best dance so far for me, well done."
Ortiz looked a bit stunned at the judges' positive reaction to his performance. "I thought the guys were playing an April Fool's joke," he told host Brooke Burke Charvet.
Comedian D. L. Hughley didn't fare quite as well. In tribute to James Brown, partner Cheryl Burke removed his silver cape before they performed a cringe-worthy Salsa to "Get Up (I Feel Like Being a) Sex Machine."
"Well, D. L., if you're a sex machine, I'm 'America's Next Top Model,'" sniffed Goodman.
Still, country star Wynonna Judd earned the lowest score of the night-- 15 points-- for dancing a dubious samba with partner Tony Dovolani to Def Leppard's '80s hair rock anthem, "Pour Some Sugar on Me," which left the judges horrified.
"You're like Mount Rushmore, you look magnificent, but you don't move," quipped Goodman. "It had no rhythm, there was no hip action, you kept going wrong."
The rest of the "DWTS" cast fell somewhere in the middle, with "Bachelor" star Sean Lowe and partner Peta Murgatroyd dancing the Cha Cha to the Village People's "Y.M.C.A." The performance was high on camp and lacked finesse–and earned higher praise from the judges than they probably deserved.
Andy Dick continued to charm with a zany Cha Cha to Rod Stewart's "Do Ya Think I'm Sexy." The randy comedian answered his own question when he ripped open his shirt to reveal a waxed chest, saying,"I don't drink anymore, but I carry around a six-pack!"
Half a dozen "General Hospital" stars came out to support castmate Ingo Raisman who performed an "aggressive" Paso Doble with partner Kym Johnson.
"You're supposed to be a matador, not an axe murderer," noted Tonioli.
Ravens wide receiver Jacoby Jones did his best to please the ladies in the audience, dancing shirtless to the Rhumba.
"Jacoby, the great and powerful," declared Tonioli, as women howled and yowled in delight. "You were smoldering like a volcano of passion."
But the biggest reaction from the audience came when judge Len gave his review of Aly Raisman's Viennese Waltz.
"Well, you know Aly, up until tonight I've been really impressed with your dancing. Not so much actually tonight," said Goodman, who was almost drowned out by a chorus of boos. After a moment, the judge shouted "April Fools!"
"That's mean," cried Raisman. "That was a good one."
But Raisman's plotting her comeuppance.
"Len totally got me....." tweeted the Olympic gymnast. "I'll have to find a way to get him back!!! #AprilFools #DWTS #promAly"
Next Week: Someone will be dumped after "Prom Night."