Cuba Gooding Jr. enters 'not guilty' plea after charged with forcible touching amid groping allegations
Cuba Gooding Jr. entered a "not guilty" plea on Thursday to two charges: forcible touching and sexual abuse in the third degree, Fox News has confirmed.
The actor entered the New York City courtroom in handcuffs around 6:47 p.m. He smiled a few times but looked nervous. When the arraignment started, he approached judge Jacob Moses and never said a word.
The judge read the charges and Gooding Jr.'s defense attorneys -- Mark Heller, Elizabeth Heller and Peter Toumbekis -- entered the plea and asked for the process to be expedited.
CUBA GOODING JR. SAYS 'I TRUST THE SYSTEM' AS HE REVEALS PLAN TO SURRENDER TO POLICE OVER GROPING CLAIMS
The judge set June 26 as the next court date and released the actor without bail.
Earlier on Thursday, the New York Police Department told Fox News that Gooding Jr. was charged with the misdemeanor crime and was on his way to central booking where he was to be arraigned by a judge.
Attorney Mark Heller told reporters his client had "completed the surrender process" and added that he had "never seen a case like this" in his 50 years of practicing law.
Heller also said, "There's not a scintilla of criminal culpability that can be contributed to Mr. Cuba Gooding Jr."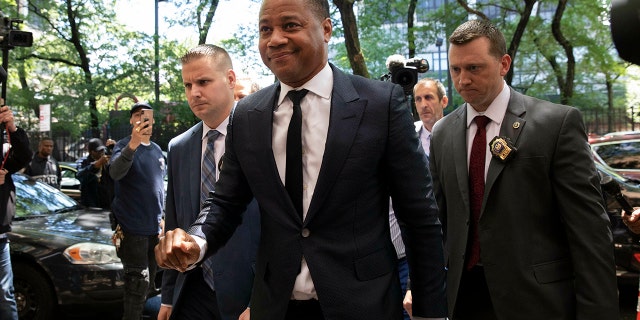 Gooding surrendered to the NYPD Thursday after a 29-year-old woman accused the Oscar-winning star of "Jerry Maguire" of grabbing her breasts at the Magic Hour Rooftop Bar & Lounge in midtown Manhattan over the weekend.
Heller had said earlier that security video would exonerate his client.
Gooding, 51, smiled and waved when he turned himself in to investigators in the NYPD's special victims division.
Heller told Fox News earlier on Thursday he "would be shocked" if police plan to charge his client and he was "not particularly concerned" over a second woman's accusations. He told Fox News the second woman's accusation stemmed from an incident that allegedly occurred in 2008.
After reviewing the security video, Heller said he was hesitant to let Gooding surrender but decided to go through with it. He said he was surprised police and prosecutors were moving forward with the case.
Gooding said Tuesday that he was partying at the bar, but didn't touch anyone inappropriately. He says there is video evidence to support his claim that nothing happened.
CLICK HERE TO GET THE FOX NEWS APP
"I trust the system and will let the process speak for itself," Gooding told TMZ on Tuesday.
Previously released video posted on social media shows Gooding at Magic Hour on Sunday night singing the Journey hit "Faithfully" and posing for pictures with fans.
Fox News' Marta Dhanis, Mariah Haas, Jacqui Heinrich and The Associated Press contributed to this report.