Corey Feldman 'Mourns' Death of Best Friend Corey Haim at Playboy Lingerie Party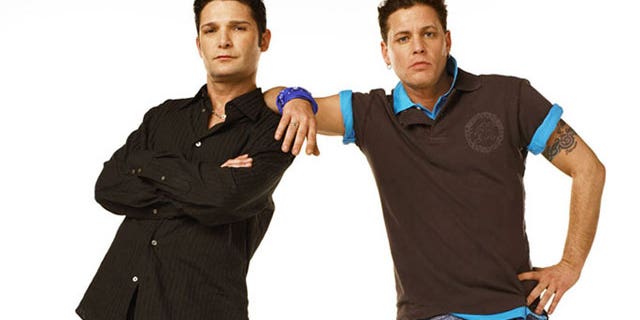 LOS ANGELES – Less than a few weeks after the tragic death of his longtime screen partner and BFF Corey Haim, Pop Tarts spotted "mourning" actor Corey Feldman living it up with none other than the likes of Eliot Spitzer's call-girl Ashley Dupre, former Pussycat Doll Jessica Sutta and Olympic skier Bode Miller at the Annual Playboy Golf Lingerie and Pajama party at Hugh Hefner's famous Mansion last weekend.
We're told party organizers were "shocked" when Feldman was one of the first to arrive, looking excited and thrilled to be there.
"I thought he was supposed to be distraught and grieving but he couldn't have looked happier," an insider said. "He partied really hard all night (in his pajamas) and loved hanging out with and hitting on naked girls and bunnies … there were a lot of people whispering about how inappropriate it seemed."
SLIDESHOW: Corey Haim: 1971-2010
Speaking of surprises, the now infamous Ashley Dupre, who is the mag's latest centerfold, shocked onlookers by being the most conservatively-dressed gal at the bash, donning a bathrobe while on the arm of a mystery man.
But back to Feldman, the 38-year-old was also recently spotted partying the night away with two blonde babes at West Hollywood hotspot Voyeur, a mere week and a half after Haim's death and a few days after releasing a statement about his anguish.
"In the days following my best friend Corey Haim's death, I have spent much time with his mother Judy, who has always been like a mother to me," Feldman said, explaining that he would not be attending the funeral in Canada. "I will remain in Los Angeles quietly mourning and planning his memorial. As a sign of respect, I am asking the media to honor Corey Haim by making the same choice. I am working with a few people who were close to Corey to put a memorial together within the next month. At that time, the media will be invited to honor and celebrate the legacy he has left behind, along with friends, fans and the rest of the Hollywood community."
But while Feldman still claimed that he and Haim were "best friends," a source close to Haim told Tarts that the two had lost touch over the years and rarely spoke.
A rep for Feldman did not respond for comment.