Cooking with 'Friends': Anna Kooiman's Grandma's Dutch Cheese Tart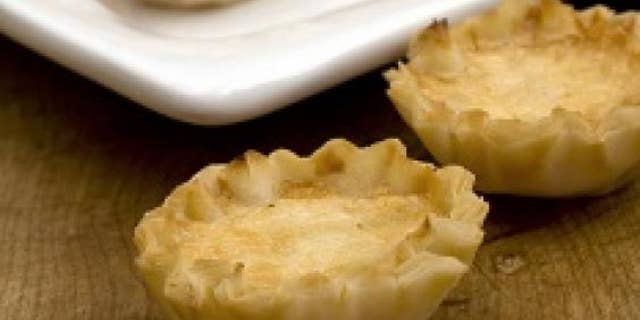 NEWYou can now listen to Fox News articles!
This is a Kooiman Christmas morning classic!
GRANDMA KOOIMAN'S DUTCH CHEESE TART
Ingredients:
Crust:
10 oz. gouda cheese
¼ c. melted butter
1 c. soft bread crumbs (about 4 slices)
Filling:
3 roma tomatoes
6-8 small mushroom caps
1 tbsp. melted butter
Garnish:
Sea Salt
Cracked pepper
Fresh basil or oregano (optional)
Instructions:
Preheat oven to 350°F.
Shred 4 oz. of gouda cheese, about 1 cup. Cut remaining cheese into thin slices.
Tear bread into small pieces and place into mixing bowl. Blend shredded cheese, torn bread, and ¼ cup melted butter. Press firmly into well-greased 9" pie pan. Be sure to press the crust up the sides of the pan as well.
Cover the crust with a layer of the sliced gouda cheese. Place a layer of the sliced tomatoes, followed by the mushroom caps. Brush entire tart with remaining 1tablespoon melted butter. At this point tarts can be covered and placed into the refrigerator for a few days until ready to bake. Bake for 20 minutes until crust is golden brown and cheese is melted. Increase oven temperature, if needed, to brown. Let sit before serving. Before slicing sprinkle with sea salt & pepper.
NOTE: For a summer take on this Christmas morning tradition, you could also garnish with fresh basil or oregano!