Connie Chung claims she was sexually harassed 'every day'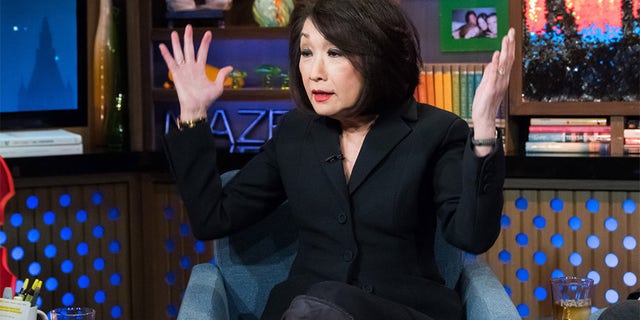 NEWYou can now listen to Fox News articles!
Connie Chung says she was sexually harassed on a daily basis when she embarked on her career as a TV anchor.
The 71-year-old, who is recognized as the second woman to ever co-anchor a network newscast, appeared on "Watch What Happens Live With Andy Cohen" Thursday alongside her husband, TV host Maury Povich, when she made the shocking confession.
Chung was asked by a viewer about her opinions concerning the sexual misconduct allegations from late 2017 against former "Today" show host Matt Lauer and "CBS This Morning"'s Charlie Rose.
"Well, let me say for the record that anybody who sexually harassed me is now dead," Chung said.
When Cohen followed up and asked if Chung ever felt harassed throughout her decadeslong career, Chung declared, "Oh yeah, sure, every day. I mean, a lot, especially when I started out."
However, when asked what she thinks of both Lauer and Rose's firings after the men were accused of sexually inappropriate behavior, Chung said she was impressed with how quickly the network responded to the allegations.
"I'm very proud of CBS and NBC for just taking quick action," she said. "Some people might be victims of precipitous action but these two, the reports about them seemed excessive. I was thrilled for this moment, for women."
Chung then nervously laughed and said, "I'm sorry, but that's all I should say."
The co-anchor worked on broadcast news starting as a correspondent for "CBS Evening News" in the '70s. She has since held positions at NBC, ABC, CNN and MSNBC.
Lauer was dumped in November just hours after a secret meeting during which his alleged victim and her lawyer told NBC her story. The alleged abuse by Lauer took place at the 2014 Sochi Olympics.
That same month, CBS News fired Rose after the veteran journalist was accused of sexual harassment by several women. PBS also parted ways with Rose shortly after the CBS decision.
"A short time ago we terminated Charlie Rose's employment with CBS News, effective immediately," CBS News executives emailed staffers in a memo obtained by Fox News.
A bombshell report by The Washington Post accused the 75-year-old of making unwanted sexual advances toward at least eight women.