Conan O'Brien's Staff 'Furious' With NBC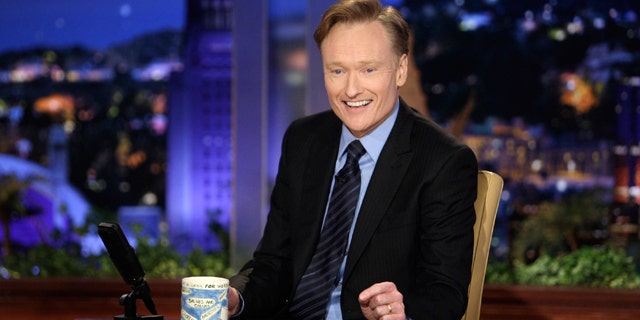 NEWYou can now listen to Fox News articles!
When Conan O'Brien moved from New York to Los Angeles in 2009 to take over "The Tonight Show" after 16 years of hosting "Late Night," the majority of his staff followed.
Now that the comedian is leaving NBC, some on his team are seething at the network.
"They (the staff) are all absolutely beyond furious with NBC," said a source. "It's crazy over there. Everyone is just so upset."
RELATED: Jay vs. Dave Gets Ugly as Wives Are Involved.
O'Brien is reportedly set to receive around $33 million in the exit package, with a further $12 million to be distributed among his 200-person staff. While there have been rumblings that O'Brien may take his show to another network, nothing has been made official, and his deal with NBC could prohibit him from appearing hosting another show until September.
"Given the many months from now to then, that is a long time to go without a job in a bad economy," said a source close to the staff, adding that they are, naturally, very concerned.
SLIDESHOW: Top 20 Late Night Jay/Conan/NBC Disaster Jokes.
Another source close to the situation told Pop Tarts that employees were incredibly "disappointed" with what has transpired, not only because they had crossed coasts to be with Conan, but because they truly believed in the show.
"It was a great show ... and there was so much fan support. It has been such a sad time for everyone," said our insider. "It's all been very hard for Conan too; he's taking it pretty hard. He's going into the unknown and he's very, very sad."
We're also told that only the higher-paid employees are most likely to stay with O'Brien if he lands another gig, while the others will be looking for jobs.
Last week, Pop Tarts was told that staff members were relatively optimistic and that efforts to find Conan a new home for his show were "moving fast", but a source close to the comedian didn't sound so cheerful on Thursday.
"We still have to find that place (new network). That definitely hasn't happened yet," said the source.
Reps for O'Brien and NBC did not respond for comment, and a rep for "The Tonight Show" declined comment.
While the controversy has hit O'Brien's staff hard, it has also taken its toll on Jay Leno's team. We're told his staffers are happy to still have jobs and to be back in their original time slot, but they're upset at the way Leno has been treated in the press and by his fellow late-night talk show hosts.
"The network asked him to make a compromise. He's being a good soldier, and he's being trashed," producer Jack Coen, who has worked with Leno for 14 years, said earlier this week.
Could Leno's tainted image negatively impact his ratings when he returns to late night?
"It will take time to bring the numbers back. NBC was brilliant in giving Conan the money to stay off television so Jay could get the head start at 11:30 to rebuild the time slot with eyeballs," said Hollywood image consultant Michael Sands. "Jay will have no issues. Many viewers will be happy that he is back on at the 11:30 time slot and fills the void, when Conan could not deliver the viewers. This is what it is all about ... the numbers! This is all about money from advertisers."