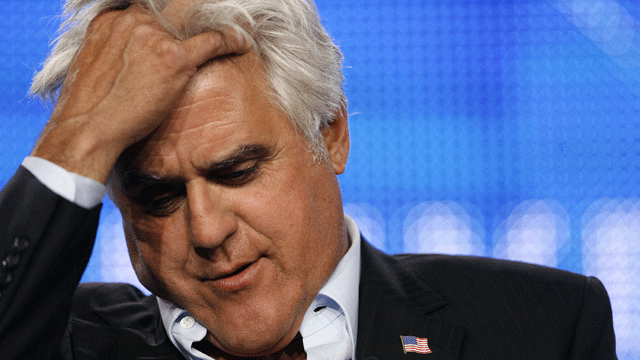 Jay Leno staffers say their boss isn't the bad guy in NBC's late-night upheaval.
Leno has faced online chatter and some reports suggesting he's wresting "Tonight" from Conan O'Brien.
"The network asked him to make a compromise. He's being a good soldier, and he's being trashed," said producer Jack Coen, who has worked with Leno for 14 years.
He added that there isn't any truth to the suggestion that the talk host forced the issue to get back on "The Tonight Show."
Tracie Fiss, a co-producer who has worked with Leno for 18 years, said her reaction to such characterizations is "frustration."
"Jay doesn't have the power to make these decisions. The decisions are made by NBC," she said.
Settlement talks continued Sunday on a deal that would let O'Brien leave NBC and "Tonight," and put Leno back into the 11:35 p.m. EST time slot he occupied for 17 years through last spring. NBC is dropping "The Jay Leno Show," his disappointing prime-time show that debuted last fall at 10 p.m.
A proposed deal would give O'Brien more than $30 million for leaving and allow him to go to another network as early as this fall, according to people familiar with the talks, who spoke on condition of anonymity because they were not authorized to publicly discuss the negotiations.
After O'Brien rejected NBC's initial plan to move him and "Tonight" to midnight EST and give Leno a half-hour show at 11:30 p.m. EST, the flap became monologue fodder for them and for other late-night hosts. The exchanges, which grew increasingly pointed and with Leno often the target, have been widely reported.
Appearing by satellite last week for Leno's "Ten at Ten" question-and-answer segment, ABC's Jimmy Kimmel was asked to relate his best prank ever. Kimmel replied that he told a guy five years ago that he'd give him his show, and "then I took it back."
It was a thinly veiled reference to Leno's agreement in 2004 to surrender "The Tonight Show" to O'Brien last year.
Coen, who worked on "Tonight" with Leno and is a producer on Leno's prime-time show in charge of writing, said such barbed humor isn't unusual among comedians but contends it's being misinterpreted in news reports.
"It's interesting to be on this side of the story and see how it's being reported. They act as if he's the corporate lapdog but also the master marionette forcing these issues," Coen said.
If Leno emerges with "Tonight" but with his image scarred, it could have ramifications for him and his show.