CNN's Anderson Cooper ignores Eric Schneiderman scandal during Preet Bharara interview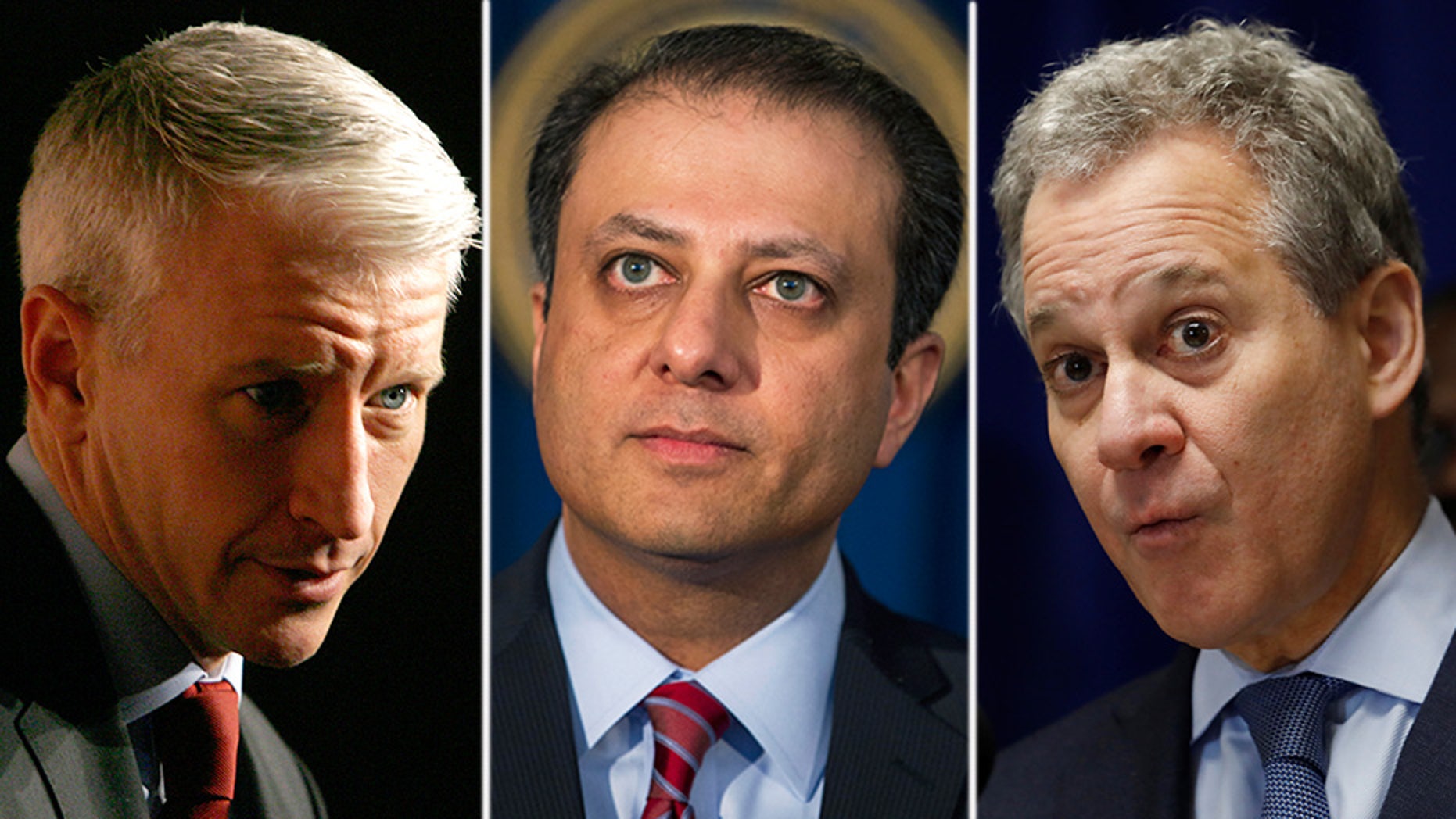 Preet Bharara, former U.S. attorney for the Southern District of New York, is being mentioned as a potential replacement for New York Attorney General Eric Schneiderman, who resigned in disgrace earlier this week amid claims he abused women.
But viewers who rely on CNN's "AC360" for their news would ind themselves at a loss, because host Anderson Cooper failed to mention the Schneiderman scandal when Bharara was live in his studio on Tuesday night.
Bharara, who is now a CNN legal analyst, joined Cooper to discuss news regarding Trump lawyer Michael Cohen and the attorney representing adult-film star Stormy Daniels, who has alleged she had an encounter with Donald Trump before he was president. Cooper didn't mention the Schneiderman case, despite it being arguably the biggest story of the day.
Cable news insiders have privately pondered whether CNN agreed not to ask Bharara about allegations surrounding Schneiderman – as the former lawyer for the Southern District would presumably have keen insight on the situation.
Schneiderman resigned this week after The New Yorker published the accounts of four women who said the progressive Democrat slapped or choked them during intimate encounters. He denied abusing anyone but said he had engaged in consensual "role playing." Schneiderman now faces a criminal investigation.
Bharara was live on "AC360" the evening that Schneiderman formally stepped down, on hand for a five-minute segment, but the duo of Cooper and Bharara didn't take a break from obsessing over Cohen to discuss the fast-unfolding scandal of the day.
New York State Reform Party Chairman Curtis Sliwa wants Bharara to replace Schneiderman, according to the New York Daily News. It would have arguably been interesting for a prime-time audience to hear Bharara's thoughts on potentially succeeding Schneiderman. It might have been even more interesting if Cooper had asked Bharara if'd heard rumblings about Schneiderman's alleged mistreatment of women.
Media Research Center Managing Editor Curtis Houck told Fox News that Cooper should have asked about Schneiderman, regardless of the rumors about Bharara filling his job.
"It was naturally incumbent on Anderson Cooper as a journalist to ask Bharara and give him a chance to respond," Houck said. "For all of Bharara's celebrity, Schneiderman seemed to be right up there in terms of stardom in the liberal New York legal circles and lawyers to lead the Resistance."
CNN's Wolf Blitzer was more thorough earlier in the day, when he asked Bharara if he would consider running for New York State attorney general.
"It's very flattering that other people have put the thought out there. I'm not putting it out there," Bharara said.
Houck added, "Even if there weren't any rumors about Bharara's future, Cooper should have asked the former U.S. attorney for his thoughts on the matter."
CNN did not respond to a request for comment.