Christina Aguilera missed Cardi B and Nicki Minaj brawl while performing 'Fighter' at NYFW party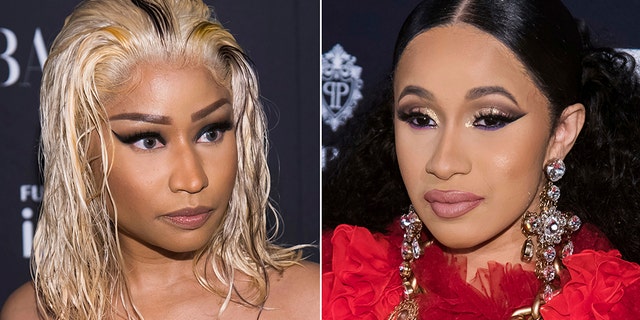 NEWYou can now listen to Fox News articles!
Christina Aguilera provided the soundtrack to Nicki Minaj and Cardi B's shoe-throwing fight, but she didn't know about it until after it was over.
"I wish I would have seen this juiciness go down," Aguilera, 37, admitted on "Jimmy Kimmel Live" on Wednesday. "I'm so that person who's like, 'What's going on?! What happened?' "
Minaj, 35, was reportedly surrounded by security when Cardi, 25, approached her and was intercepted by Minaj's entourage, receiving a knot on her head and hurling a red high heel in the process.
The scuffle was likely the result of more than a year's worth of back-and-forth disses between the rappers.
Meanwhile the "Liberation" singer said she was decompressing after her performance when she found out about the brawl from her hairdresser.
"I heard there was a fight that went down during my song 'Fighter' which is so appropriate," she said. "I was like, 'Oh my God, that's genius! Yaas, my music is invoking passion and emotion!' But then I heard it was during 'Genie in a Bottle,' and I do a Migos version, so I was like, 'Oh, Cardi got excited with that!' "
While Aguilera was once notorious for allegedly having a diva attitude, she wasn't miffed about stealing the spotlight, quipping, "Probably people would think I would be upset that this happened at my show or whatever, but really, I'm just sad I didn't get a front row seat. That's where the real show was, damn!"
While Cardi and Minaj's beef reportedly started over social media posts the "Bodak Yellow" rapper didn't take to kindly, Aguilera said she actually uses the medium to nip potential feuds in the bud – and that she wished she'd had Twitter or Instagram back in the days of her media-created rivalry with Britney Spears.
"You can use it to your advantage and it's a way to connect with your fans and it's a platform you can use to express yourself in your own way," she said. "And it squashes beefs!"
This story originally appeared in the New York Post.