Charlize Theron's Tight Golden Dress, Brad Pitt's Shirtless Magazine Cover, and Much, Much More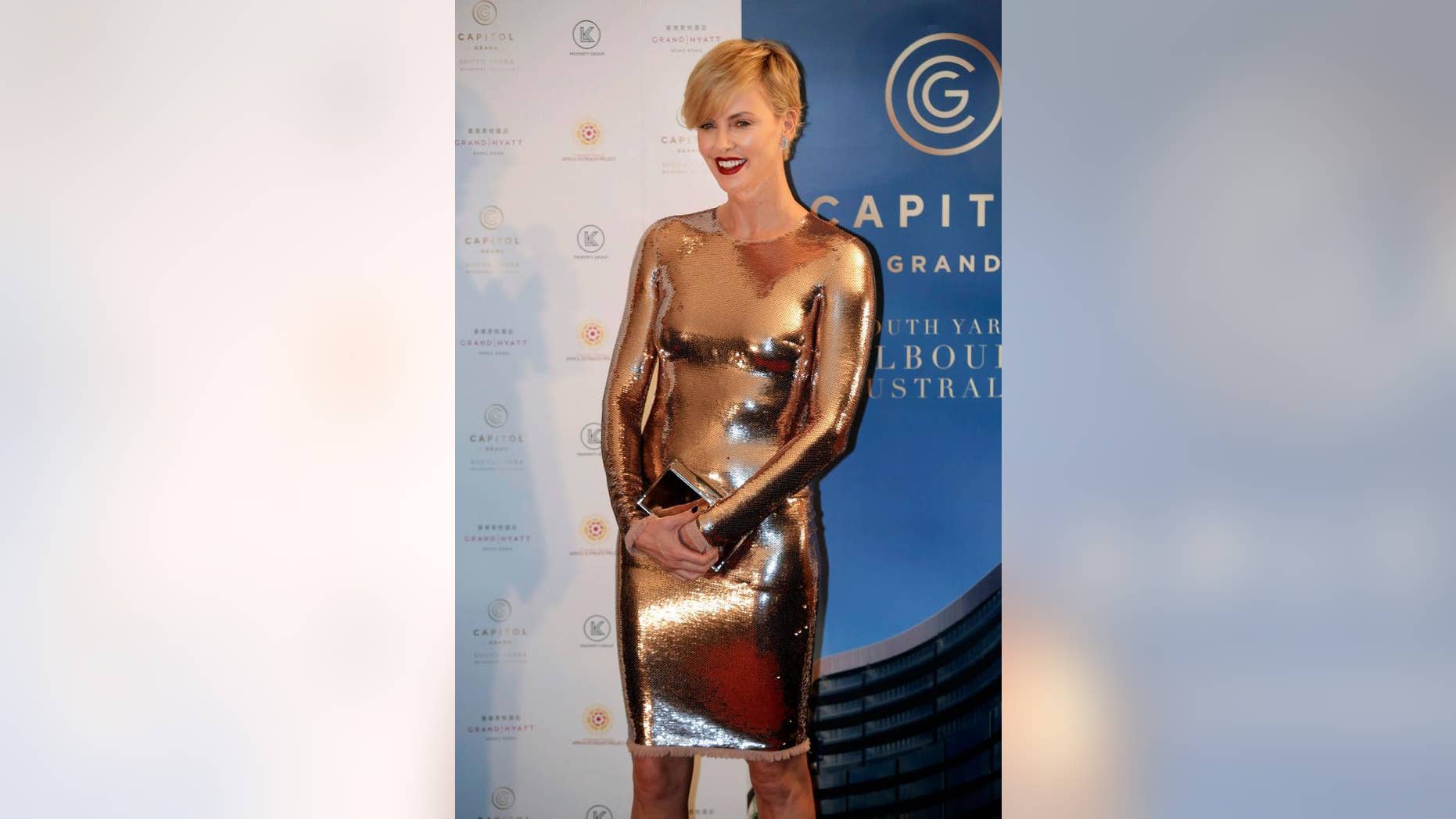 Here's what's happening out there:
• Charlize Theron arrived for an event in Hong Kong wearing perhaps the tightest dress we've ever seen in our entire lives (above). And that's saying something, because we one published an article featuring  of Eddie Murphy's girlfriend slowly suffocating in a gray bandage dress.
• Brad Pitt went shirtless for V magazine's forthcoming winter issue, the cover of which features Pitt wearing nothing but a pair of suave sunglasses, a tasteful wedding ring, and Robert Redford's hair circa 1971:
• Carrie Underwood will be serving as the headlining act of ABC's "Dick Clark's New Year's Rockin' Eve With Ryan Seacrest," where she will be helping Seacrest ring in the New Year with her signature brand of country. Hopefully, she'll also be helping Seacrest remember the title of his own freaking show, because man, that's a doozy.
• In related news, we recently learned the simple secret to Carrie Underwood's smoky eye makeup at the Rita Hazan Salon in NYC. Watch the video below to learn how you, too, can recreate Carrie's look in less time than it takes Ryan Seacrest to pronounce the needlessly long and confusing name of his own dumb show:
• As part of a televised prank for Velocity's car-restoration series "Overhauled," guest star Johnny Depp conspired with the show's crew to trick his new wife Amber Heard into thinking her classic Mustang had been confiscated by police, and that her father was being arrested (below). In future news, Johnny Depp's estranged wife Amber Heard is filing for divorce.
• Casey Moss, a 21-year-old actor who stars on "Days of Our Lives," was arrested earlier this week after allegedly trying to punch a hotel bartender who refused to serve him — which just goes to show what a newbie he is. Any seasoned soap actor would've instinctively known to pick up a fellow patron's drink and throw it in the bartender's face.
• Justin Bieber walked out of an interview with a Spanish radio station after the hosts asked him to help "break the internet" by co-starring in a viral video they wanted to shoot (below, starting at about 7:45). So let this be a lesson to all you zany radio DJs out there: The Biebs does not participate in spur-of-the-moment videos. Unless he's peeing in a mop bucket or something.
• Despite reports to the contrary, Khloe Kardashian has revealed that she is not getting back together with Lamar Odom, and that she called off their divorce because there are "too many other important things" going on. So for all you estranged husbands out there, it's time to cancel your elaborate schemes to win back your wives by spending a weekend at the Bunny Ranch.
• And finally, Taylor Swift shared an old Halloween photo dressed as Laa-Laa from the "Teletubbies," but as she lamented in the caption, her friends simply thought she was dressed as a "yellow pregnant alien" (below). But seeing as nobody knows what the heck the Teletubbies actually are, "yellow pregnant alien" might be the most accurate guess anyone's ever heard.