Celebrities react negatively to Donald Trump's national emergency declaration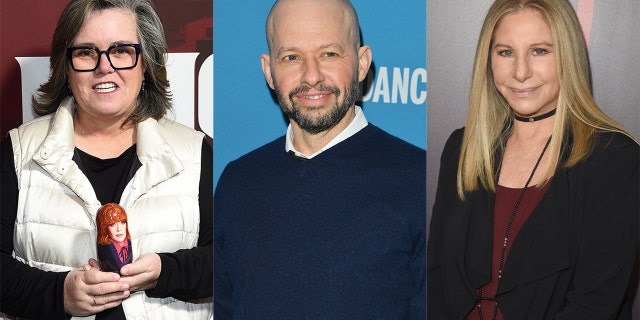 Following President Donald Trump's announcement that he'll be declaring a national emergency at the southern border in a bid to divert the billions of dollars he needs to construct a barrier, his critics in Hollywood are sounding off on the decision.
Not long after, and in some cases before, Trump made his announcement Friday on the White House Rose Garden, several of the most left-leaning celebrities in show business took to social media to express their disdain with his decision, with many declaring Trump himself to be the biggest threat facing the United States.
CELEBRITIES REACT TO DONALD TRUMP'S ADDRESS TO THE NATION ABOUT THE SOUTHERN BORDER
With people on either side of the political aisle commenting one way or another on the ongoing issue at the southern border, below is a rundown of just some of the celebrities that have weighed in:
"A national emergency is climate change - not your stupid wall. The courts will likely stop you anyway," wrote Barbra Streisand.
"Another distraction and another example of utter failure of leadership...shut down the Government? He's going to shut down the country. But will Putin send the plane??" wrote actress Bette Midler.
"Donald Trump's emergency declaration is an attack on democracy," Mia Farrow said.
"By declaring a non-existent national emergency, The Pathological Liar is once again facilitating the slow erosion of Democracy. We must never allow his childish temper tantrum attempts at authoritarianism to become normalized," wrote Rob Reiner. "Keep fighting to preserve US!"
"The Notorious RBG returned to work for the first time since December--in time to weigh in on the constitutionality of this manufactured national border emergency. #Hero," wrote George Takei.
He previously added: "So Mexico wouldn't pay for the wall, Congress wouldn't pay for the wall, even a gofundme wouldn't pay for the wall. Obviously, now it's a g------ national emergency."
CELEBRITIES REACT TO RALPH NORTHAM BLACKFACE CONTROVERSY WITH CALLS TO RESIGN
Piper Perabo commented on a different part of Trump's speech saying, "Trump is in the Rose Garden praising the death penalty + how much money we'll make in a trade deal in the same breath. This man is terrifying. Please stand up for compassion, fairness + humanity whenever you can, as Americans we must set the example that he does not speak for us."
Noted Trump critic Kathy Griffin simply wrote, "Trump is a dips---."
Singer Moby shared a headline calling Trump the real national emergency and added, "Well, that, and his racism, misogyny, homophobia, and treason."
"Donald Trump's purported determination to declare a "national emergency"to build his wall is a giant step away from democracy and a giant step toward dictatorship. He means to destroy an American form of government that has survived for 200+years," wrote horror author Stephen King.
Seth MacFarlane shared a lengthy statement on Twitter about the national emergency declaration.
"Even conservatives have had it with this guy," he wrote before sharing a bit of text reading: "The right feared it would be the Left that would gut the Constitution. It turned out that Republican president beat them to it by declaring a national emergency over a non-emergency to seize power."
"You can't declare a 'national emergency' when you ARE the national emergency," director Michael Moore wrote.
Actor John Cusack added: "Impeach - house do yr duty - he may be the first President be impeached twice - do it now - on the merits- when mueller report comes in - deal with that then-
Child abduction is a felony not s policy."
"trump is a lying dope - he is the most inarticulate moron alive - dont cover his lies msm #dopeyDONALD," wrote Rosie O'Donnell.
"Westworld" star Jeffrey Wright wrote: "National Emergency in the US? Yeah. I see it."
CLICK HERE TO GET THE FOX NEWS APP
Former "Two and a Half Men" star Jon Cryer noted: "Hey Trump voters He's declaring a national emergency so he can make you pay for his wall. Happy Valentines Day!"