Cannes: Salma Hayek, on eating heart of a sea monster in 'The Tale of Tales': 'Disgusting!'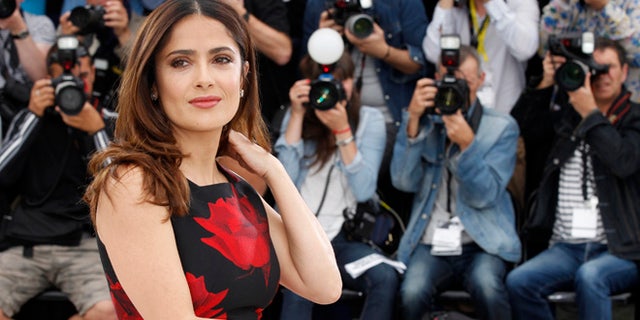 Salma Hayek is not shy about sharing the various insects – delicacies in her native Mexico – that she enjoys eating. But it seems that chowing down on the heart of a sea monster in Matteo Garrone's "The Tale of Tales" is a step too far.
"Disgusting!" Hayek exclaimed Thursday morning after the movie showed for critics at the Cannes Film Festival.
"The Tale of Tales" is based on the influential but little known 17th century Neapolitan fairy tales of Giambattista Basile. It's a Brothers Grimm-like world of kings and princesses, ogres and witches, in a series of grotesque fables with modern relevance. Critics mostly responded rapturously to its baroque weirdness at Cannes.
Hayek plays a queen desperate to have a child. Advised by a warlock to eat the heart of a beast, her king husband (John C. Reilly) slays a monster, and Hayek subsequently chows down on the massive organ.
"Our director here wanted ... the inside of the heart to be identical to the real heart," said Hayek. "Forbid I would take a bite and a doctor would realize an artery is missing."
The "heart" was actually made out of pasta and other things, but it still didn't make for an appetizing meal. "I thought I was going to throw up," she said.
There were other challenges, said Hayek, including wearing Massimo Cantini Parrini's sumptuous costumes.
"He never made me a dress that weighed less than 30 kilos (66 pounds)," said Hayek.
Filming one scene repeatedly in which she runs through a labyrinth, Hayek said she got so tired that her heavy dress became stuck after Garrone told her to jump. Three men had to dislodge her.
"Massimo was screaming, 'The dress! The dress!'" said Hayek. "It was humiliating."
Based on reporting by the Associated Press.