Calvin Klein show delivers political message at Fashion Week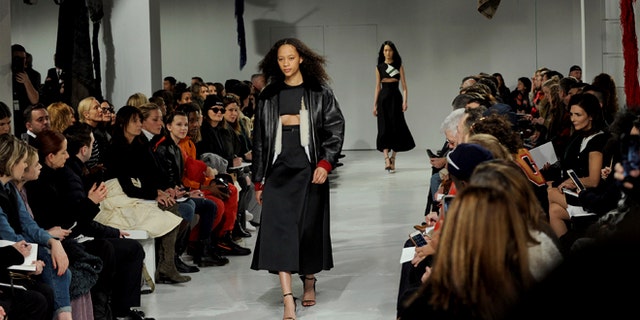 NEWYou can now listen to Fox News articles!
With the help of David Bowie's infamous song "This is Not America," designer Raf Simons made a pointed message during his debut collection for Calvin Klein at New York Fashion week.
"It reflects the environment," Simons wrote in the show notes. "It is the coming together of different characters and different individuals — just like America itself."
The music, the clothes and even patterned bandanas he sent to guests with a note saying: "Unity, inclusion, hope and acceptance: Join us at Calvin Klein in wearing the white bandanna. #tiedtogether," Simons wanted to use his platform to put his message across.
"When you have a voice, you should use it," Simons said backstage just last week at his own label's menswear show, almost as if alluding to his Calvin Klein show on Friday.
There were nods to the American West for both women and men, with denim jackets over loose jeans, or colorful cowboy-style shirts. There was sporty America, in striped tube-sock sleeves — similar to the arm-warmers shown by his men's label. There were crisp business-like suits in black and white, and coats in colorful quilt patterns.
For some flash, there were a number of garments — dresses, coats, skirts — encased in a layer of plastic, looking like cellophane wrapping on a gift. In one dress, the plastic shielded a burst of feathers in white, yellow and black. A golden yellow furry coat also had this laminated effect. Another common embellishment was a silver metallic flower, appearing on black leather jackets or sheer mesh tops that left little to the imagination.
Among the celebrity attendees were Gwyneth Paltrow, Julianne Moore, Sarah Jessica Parker, Naomie Harris, Kate Bosworth, Greta Gerwig, Brooke Shields, director Sofia Coppola, and supermodel Lauren Hutton.
Hutton praised both the show's contents and its messaging."He's a new miracle," she said backstage of Simon's arrival at the label, a post the former Dior designer has taken over from Francisco Costa. Asked whether politics should have an expression in fashion, she said: "I think that's what all art is for. Fashion, if it's good, always has something to say about society."
Designer Diane von Furstenberg also was among the front-row guests. She wore a large button that said: "Fashion starts with Planned Parenthood.""It's not about politics," she explained.
"It's about women's rights, about the body, and about human rights."
The Associated Press contributed to this report.