Buzz Aldrin slams 'First Man' movie controversy, posts photos of US flag on moon with 'Proud to be American' hashtag
Legendary Apollo 11 astronaut Edwin "Buzz" Aldrin took a swipe at the upcoming movie "First Man" late Sunday for its director's decision not to show the planting of the American flag on the moon during the historic 1969 mission.
Aldrin, 88, who was the second man to step on the moon, behind crewmate Neil Armstrong, posted historical photos of the flag-planting and added the hashtag "Proud to be an American."
Armstrong, who died at age 82 in 2012, is the subject of "First Man," which stars Ryan Gosling and is scheduled to hit theaters next month.
In previous posts Saturday, Aldrin shared photos of himself wearing a T-shirt with the tagline "Buzz Aldrin, Future Martian" that shows an astronaut planting the American flag on the Red Planet.
He also retweeted a photo of himself saluting while standing next to an enlarged photo from the Apollo 11 mission that includes the flag on the moon.
RYAN GOSLING DEFENDS NEIL ARMSTRONG BIOPIC 'FIRST MAN' LEAVING OUT AMERICAN FLAG IN MOON LANDING SCENE
But despite the controversy, actor Gosling, a native of Canada, defended the decision not to portray the flag-planting scene, saying at the Venice Film Festival that the decision was deliberate because the moon landing "transcended countries and borders."
"I think this was widely regarded in the end as a human achievement [and] that's how we chose to view it," Gosling told reporters. "I also think Neil was extremely humble, as were many of these astronauts, and time and time again he deferred the focus from himself to the 400,000 people who made the mission possible."
Many mocked and criticized Gosling's decision, with U.S. Sen. Marco Rubio decrying it as "total lunacy" and ignoring historical reality.
"The American people paid for that mission, on rockets built by Americans, with American technology & carrying American astronauts. It wasn't a UN mission," Rubio tweeted.
NEIL ARMSTRONG'S SONS DEFEND 'FIRST MAN' FILM FROM CLAIMS THAT IT'S 'ANTI-AMERICAN'
But on Friday, Rick and Mark Armstrong, sons of the late astronaut, along with biographer James R. Hansen, released a statement pushing back against criticism and saying director Damien Chazelle's film is "quite the opposite" of being "anti-American."
They added that the remarks about the film have been made largely by those who haven't actually seen the movie yet.
"This story is human and it is universal. Of course, it celebrates an America achievement. It also celebrates an achievement 'for all mankind.'"
"This story is human and it is universal. Of course, it celebrates an America achievement. It also celebrates an achievement 'for all mankind,'" the statement said, adding that "the filmmakers chose to focus on Neil looking back at the earth, his walk to Little West Crater, his unique, personal experience of completing this journey, a journey that has seen so many incredible highs and devastating lows."
Chazelle himself also released a statement, insisting the omitting of the planting of the U.S. flag had nothing to do with politics.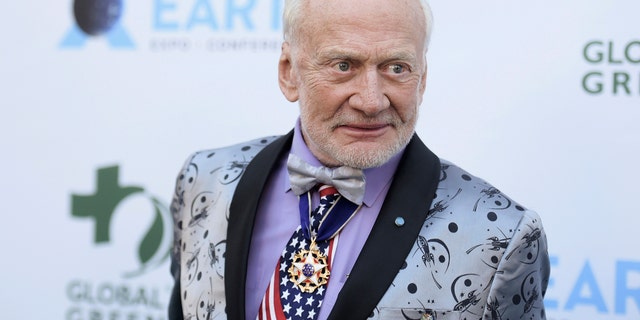 "The flag being physically planted into the surface is one of several moments of the Apollo 11 lunar EVA [extravehicular activity] that I chose not to focus upon," he said on Friday.
"To address the question of whether this was a political statement, the answer is no. My goal with this movie was to share with audiences the unseen, unknown aspects of America's mission to the moon — particularly Neil Armstrong's personal saga and what he may have been thinking and feeling during those famous few hours," the director added.
Fox News' Amy Lieu contributed to this story.