Britney Spears' Boyfriend 'Hates' Her Music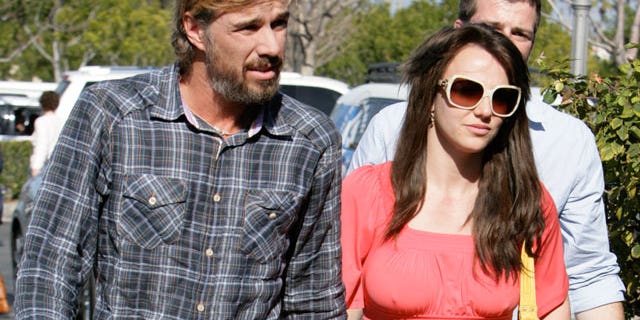 LOS ANGELES – Britney Spears was nowhere to be found at Paris Hilton's TYKU-sponsored Studio 54-themed birthday bash at her private residence on the weekend, however her boyfriend/agent Jason Trawick was pretty comfortable at the party without her – maybe a little too comfortable.
"Jason arrived with a male friend, but was definitely enjoying himself until DJ Mr. Best, threw on Britney Spears' song 'Toxic,'" an insider told Pop Tarts. "When the song came on the first thing out of Jason's mouth was 'OMG I hate this song!' His friends all laughed and continued to talk, but he interrupted them by saying, 'I'm sorry, I can't hear what you're saying over her voice.' He wasn't laughing."
Ouch.
SLIDESHOW: The Lovely and Talented Britney Spears
And after slamming his girl's music, Trawick continued to party – even when other peeps asked if he was going to leave soon he replied "Nope, I'm all good" before eventually being one of the last out the door around 3 a.m.
Spears and Trawick have been dating since early last year, and despite all the rumors that the pop princess was desperate for the William Morris agent to put a ring on it, an inside source said that it was really Spears' dad Jamie that was pushing the relationship due to Jason's "good influence" on his troubled daughter.
But let's go back to Hilton for a moment – seriously, the girl threw herself about half-a-dozen birthday parties in different cities over the last ten days to celebrate turning 29. Goodness knows what it will be like this time next year!
And surprise surprise, at this final party, Hilton spent the evening twirling and whirling from the stripper pole she has installed in the "club" room in her house.
"Paris was having a really good time, at one point later in the night; she had a quick outfit change and came right back to continue dancing the night away. Hayden (Panettiere) was there with a group of girls and was also dancing up a storm," dished our insider. "Hayden was dressed up in a slightly trampy looking gold-sequined dress with long dark wavy auburn hair and dramatic peacock eyelash extensions."
Guests enjoyed Vita Coco and Ciroc-tinis and gathered in her dining room to toast & sing Happy Birthday to the heiress. We're also told that Hilton's beau Doug Reinhardt followed her around the entire evening, as did another male admirer and former flame.
"Brandon Davis was following Paris and Nicky around like a puppy dog and was pretty intoxicated," said another partier.