Bristol Palin opens up about her decision to join 'Teen Mom OG'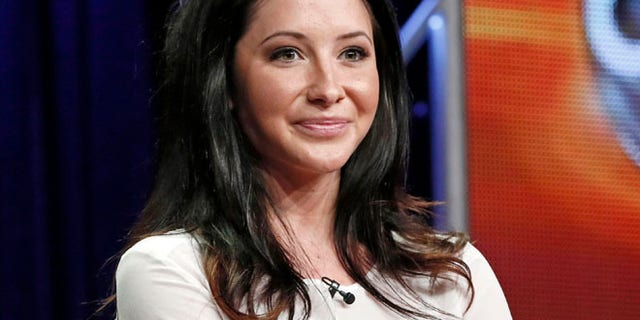 Bristol Palin is ready for people to get an inside look at her home life.
ET caught up with the 27-year-old reality star, where she opened up about why she decided to join the upcoming season of "Teen Mom OG" and how she believes that her kids will respect her decision.
"I decided to join 'Teen Mom' because of a lot of reasons. I read this book recently and it was all about turning your wounds into someone else's wisdom and your hurt into someone's healing, and your breakdown into someone else's breakthrough," she began.
"It really changed my perspective on a lot of things, and made me realize that God gave me a platform that was to serve others, and if I can do that with this show, you know, letting people know they are not alone, and there are the same struggles across the nation. So that is why I decided to do it. It was to hopefully encourage others and to let them know that life isn't over after a divorce."
Bristol Palin Gives Insight Into What Led to Her Divorce From Dakota Meyer
Palin and her ex, Dakota Meyer, split in February after a year and a half of marriage. In August, she confirmed that she was "freshly divorced."
The two share two daughters together, 2-year-old Sailor and 1-year-old Atlee. Palin is also mom to 9-year-old son, Tripp, from her relationship with Levi Johnston. Prior to letting cameras inside her life, Palin says she lived a fairly normal life.
"People don't realize that I've had a normal job for several years," she explained.
"I worked at a doctor's office for almost eight years before I moved to Texas. So my life was pretty figured out. I got engaged, it was a planned pregnancy, 100 percent, and the marriage part of it just didn't work out. So I felt like my life was together and I was definitely ready for another child, but I was not ready for the marriage part of it."
Bristol Palin Tells Mom Sarah Palin Her 'Life Is Not Perfect' in 'Teen Mom OG' Trailer
She also reveals that she "100 percent" felt like she and Meyer rushed into marriage. "I think that our marriage was something that was very fast, and he would agree too," she expressed.
"There's a lot of things that we probably both wished that we would have done differently. I think there's a lot of things that we would advise our children to do different, absolutely."
Last week, a trailer for "Teen Mom OG" was released that showed Bristol explaining what led to her divorce from Meyer. The mother of three shared that Meyer, a United States Marine, had been struggling since returning home from Afghanistan.
"My husband, Dakota, has been struggling with PTSD and it's been hard on our marriage," she admitted in the sneak peek. "We don't know how to co-exist together. I don't want to raise my kids to think this is what a marriage looks like, you know."
During ET's interview, Palin had nothing but great things to say about the father of her daughters, yet admitted that times were tough.
Bristol Palin's Ex-Husband Dakota Meyer Opens Up About Divorce: 'She Wasn't Happy With Me'
"I've seen a teaser on the show where I'm talking to my mom [Sarah Palin] saying, 'I go to sleep at night knowing that I tried my hardest,'" she explained. "And I do go to sleep at night knowing that I've tried my hardest. Is it unfortunate how things have ended up? Absolutely. But I do go to bed knowing that I have given it my all."
"He is an incredible father and I would never say anything about him as a father because he's blown my expectations," she added. "And I know he's got all the help in the world when they're at his home and I respect him as a father."
Palin, however, is moving on and hopes her story can help other single mothers. So does she regret letting cameras inside her home? She does admit to having some moments where she wishes they would be turned off.
"When my kids are overwhelmed, I can feel it," she confessed. "So there have or 'They need to go to bed.' But the crew we work with is amazing and they respect those boundaries."
"Teen Mom OG" premieres Oct. 1 on MTV.