Brandi Glanville starring in new reality dating show and not seeing Snoop Dogg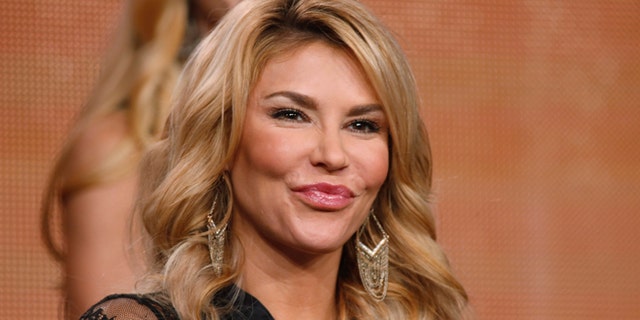 NEWYou can now listen to Fox News articles!
Brandi Glanville hasn't ruled out a return to the "Real Housewives of Beverly Hills."
"Never say never," she teased Friday at an NBCUniversal media event in Los Angeles.
"They were great to me. It was a great platform. I had a lot of fun and I had a lot of not fun. I am still really close to Yolanda [Hadid] and Kim [Richards]. And I like Erika [Girardi]. So never say no."
Click here to subscribe to FOX411's YouTube channel
The former model left Bravo's hit reality series in 2015 when producers decided not to invite her as a full time cast member.
"The other women were really at a point where they did not want to shoot with me," she tells Fox411. "They were kind of closing me out. Kind of like what happened to my friend Kristen on New York Housewives."
The tipping point, Glanville says, came when she jokingly slapped co-star Lisa Vanderpump across the face.
The caddy reality queens have not yet reconciled.
"This season, when you are watching 'Housewives,' you get to see the Lisa I knew from Day One and how strategic and planning [she is]," Glanville says. "I feel like her whole house of cards is going to crash down."
Glanville — who recently completed a movie with Girardi — is set to appear in the upcoming E! channel reality series "Famously Single," on which celebrities looking for love with help from Hollywood relationship expert Dr. Darcy Sterling.
The program also Danity Kane singer Aubrey O'Day, model Jessica White and Latin singer Somaya Reece.
"We didn't feel like we had to fight," Glanville says. "It is like no other show on air. There is that therapy aspect to it, but we are also doing really fun things and going on dates and torturing each other. That is always fun."
Glanville, 43, spoke more about her new show, "Housewives" co-stars and blooming relationship with comedian Theo Von:
FOX411: What attracted you to Theo?

BRANDI GLANVILLE: I like that he is very confident. He gives me his phone and is like, "Put your number in it." We have just been on a handful of dates. He is wildly inappropriate. I love that. We have the same sense of humor. He is completely offensive. He calls me the C-word, which I am okay with because it is him. I am like, "Slow your roll there a little bit." But he is funny.
FOX411: Under what circumstance would he call you that?

GLANVILLE: Any! I told him "One day I am going to sue you for defamation of character. Just get ready for that."
FOX411: Do you see Theo as being a potential father figure for your children?

GLANVILLE:No! He is a great guy. If you go over to his house, there are pictures of his nephews all over, which I think is super sweet. But we could get in a fight and never talk again. It is just so new.

FOX411: There are reports that Snoop Dogg is trying to date you…
No! Not true. Never. He has never asked me out. And I believe he is married! I don't know where that came from. But oh, God no. Hell no.
FOX411: You have said you need to learn to trust again. Is that because of what happened in your previous marriage?

GLANVILLE: It is definitely because of what I went through with Eddie [Cibrian, who cheated with singer LeAnn Rimes]. And it was really hard. It is still scaring and damaging. You definitely don't get over it, but you get through it.
FOX411: Was his cheating so difficult because you were so blindsided by it or did you have an inclination that maybe he could do that?

GLANVILLE: I am a Scorpio so I am a little bit crazy. But the long golf days and he was always like "My phone died." And I was always a little bit jealous. I was like "What are you talking about? You have a car charger?" And my friends would be like, "Brandi, you are being crazy. He loves you. He adores you." Then it turns out I was right the whole time. I always think certain things and then my friends are like, "We are so sorry."
FOX411: Did Eddie ever apologize or take any accountably for the way things went down?

GLANVILLE: No. But at this point I don't need or expect any more. It has been seven years. All I care about are my children and that they are brought up properly and that they don't try to play their dad and mom against each other because they know we don't get along.
FOX411: How did being on "Famously Single" help you find love again?

GLANVILLE: I think doing this show, I found out that I could have butterflies again. I thought I was dead inside. Then I thought I will just go with chemistry and call it a day. But there is a particular person on this show that I connected with on that level. And I realized, "Whoa I can have it all again."
FOX411: Is that going to be weird to relive that relationship now that you have met someone new?

GLANVILLE: I don't think so. This show was shot last year. We were done with it in November. So there is no crossover there at all.
FOX411: You seem so much calmer these days. What do you attribute that to?

GLANVILLE: "Housewives" was a very… I had so much anxiety on that show. It was so much drama all the time. That is what I loved about ["Famously Single"]. We did have drama, and there was crying and laughing and a lot of making out, but it wasn't constant. It wasn't like, "Oh, my God, who is coming for me?"
FOX411: Would you go back for another season?

GLANVILLE: Only if I am still famously single.