Brad Pitt, Disney producing true-life story of Mexican farmer turned neurosurgeon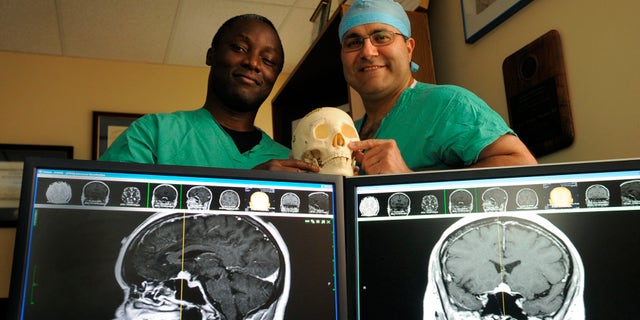 NEWYou can now listen to Fox News articles!
The life story of the director of the Brain Tumor Surgery Program at John Hopkins Hospital, a 48-year-old neurosurgeon who came to the United States illegally as a teenager, is set to become a Hollywood movie.
Brad Pitt's production company Plan B has teamed up with Walt Disney Studios to develop a feature film about Alfredo Quiñones-Hinojosa, MD, who crossed the border from Mexico at 19 years old, according to The Hollywood Reporter.
Quinones-Hinojosa – or Dr. Q. – was born in a small village outside of Mexicali. When he arrived to the U.S. in 1987, he did not speak English and worked as a farmhand outside of Fresno, California.
He saved up enough money for English classes and then saved up enough to attend school.
According to THR, eventually Quinones-Hinojosa attended Harvard Medical School to become a celebrated brain surgeon and cancer researcher.
In addition to his post at the Brain Tumor Surgery Program, Dr. Q's is also Director of the Pituitary Surgery Program at Johns Hopkins Hospital and Associate Professor of Neurological Surgery, Associate Professor of Oncology.
Plan B learned about the doctor in 2007 after executives first heard of his story on a radio program, THR reported. Matt Lopez, the playwright behind the Civil War drama "The Whipping Man" is set to write the screenplay.
The project is known as "Dr. Q" and falls in line with Disney's recent inspiration dramas.
Like us on Facebook
Follow us on Twitter & Instagram