Boomer Esiason addresses co-host Craig Carton's arrest: I still love him
WFAN radio host Boomer Esiason addressed his co-host Craig Carton's Wednesday arrest telling his listeners Thursday morning he still has "love" for the accused Ponzi schemer.
"I just want people know out there that I've loved my partner for 10 years and I still love my partner," Esiason said on his radio show "Boomer and Carton." Former Giants quarterback Phil Simms joined him as an emergency substitute.
Carton was arrested Wednesday on fraud charges alleging he and others used a Ponzi scheme and a concert ticket-selling scam for acts including Katy Perry to try to raise millions of dollars to pay off gambling debts.
"I loved his family, loved his kids and I am praying every single day that, you know, he lands on his feet. There's nothing worse than having a family going through what they have to go through," Esiason told the listening audience.
Will Chris Christie replace Craig Carton on WFAN?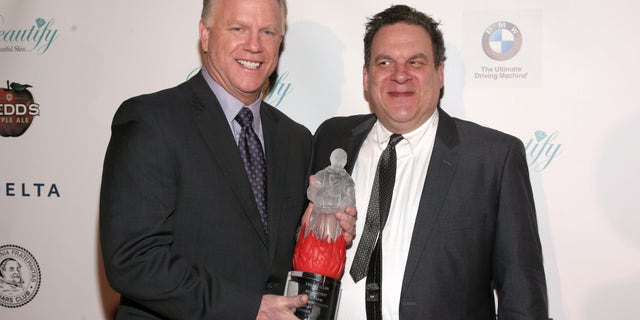 Esiason also said he has not spoken to his co-host since the last time they were on air together and that he was in complete shock when he learned of Carton's arrest.
"I'm taken aback and surprised by it, just like I'm sure everyone else is," Esiason told WFAN listeners on Wednesday morning. "I thought he had called in sick this morning. But, unfortunately, my partner was arrested."
Carton and his business partner Joseph Meli, 43, an event promoter, are accused of stealing at least $3.6 million from two of their investors. Carton is also accused of stealing an additional $2 million from another investor.
Esiason, who also covers the NFL for CBS, said Thursday Carton has been suspended "until further notice."
"It's shocking, it's shocking, but the people that reached out to me on Twitter, the people that reached out to me personally, the people sending e-mails and everything else … just blew me away, absolutely blew me away," Esiason said, adding that the station's other marquee host, Mike Franscesa, was being very supportive.
Carton often made fun of Francesa and his WFAN show on "Boomer and Carton."
Esiason promised the show will go on in Carton's absence.
"We'll continue to do it and I'm gonna bring my friends here to find a permanent replacement – if, in fact, that's where this is going to take us," he said. "At the end of the day we have four hours here WFAN, a great place to work with great people. It was like a morgue around here yesterday."
Carton and his business partner were released on $500,000 bond at a hearing Wednesday. Their lawyers declined to speak afterward to reporters.
The Associated Press contributed to this report.