Bond Turns 50: Jane Seymour on being a Bond girl; I 'was meant to look like a virgin'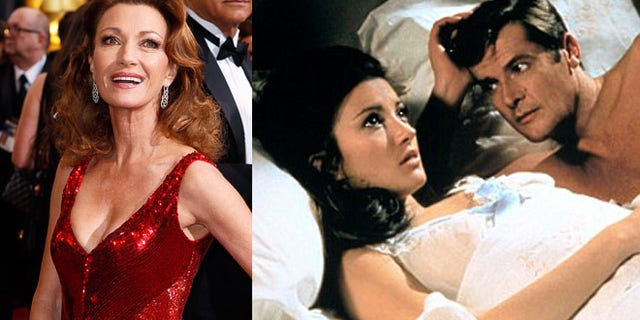 NEWYou can now listen to Fox News articles!
British beauty Jane Seymour got her big break starring alongside Roger Moore as Bond girl "Solitaire" in "Live and Let Die" at the tender age of 20.
"My Bond character was meant to look like a virgin, I don't think they do that very often," Seymour told FOX411's Pop Tarts column on the occasion of the Bond franchise's upcoming 50th anniversary. "Usually they are looking for someone exotic, different, beautiful, someone that is a nemesis or a lover for (Bond). There is always a twist to it, there is always something exotic about a Bond girl."
Seymour was still very new to the entertainment industry when she scooped the coveted role in 1973, and says now it ultimately became the high point of her Hollywood career.
"Being in that film I was just 20 and starting out, so it was a huge deal. I had a career afterwards, but I have never done anything remotely like that since then. I had to go back to what I knew and what I do which is more practical stuff," she continued. "And this was the first Roger Moore Bond film, and it was big shoes to climb into after Sean Connery. I was watching Roger deal with that, but I was very new to acting so I realized I had a lot to learn."
Seymour says for those lucky few actresses chosen to be a Bond girl,the role brings with it the bonus of a sisterhood-type bond long after production wraps.
"It's interesting that whenever I meet some of the other Bond girls, I always have something in common, and it is an interesting sorority. We all share about our Bonds," she laughed. "'Did your Bond do that?' 'Yes mine did!' So it is quite funny conversations. We may as well be in high school."
The memories the graceful screen star has from making "Live and Let Die" are enough to make up a film of its own, from crazy stunts to seeing parts of the world that were more like a fantastical dream.
"The very first day I went on-set in New Orleans, just seeing the funeral procession, and going to the bayous and ... there were huge stunts happening, huge crocodiles jumping over wedding cakes, I don't even know where to begin," she recalled affectionately. "It was larger than anything you could imagine. In those days, the Bond films were the big action franchise. Now, there are quite a few action franchises... In my era, the (locations) were always exotic and took you into another world, the films were tongue-in-cheek. They were humorous and not just hard action."
Now 61, Seymour devotes much of her time and energy to her "Open Hearts Foundation," which seeks to provide funds to charitable organizations in the areas of health, arts, education, and sports, and honors individuals that exemplify the Open Heart Philosophy, which stands for selfless giving, even in the face of adversity. Next month, Seymour's latest book, "Open Hearts Family," celebrating families of all shapes and sizes, will hit shelves.
"When I was growing up, my mother, who had been through a lot of terrible things in life, taught me that when life is tough your instinct is to close your heart. But if you can accept what happened and reach out to someone, there will always be someone less fortunate, or someone that can bring a solution and help your life," she added. "The point of the book is that once you open up to someone, they often become closer to you than even your biological family. The family is inclusive of not just your genetic family, but the people that you meet along the way... I hope the book empowers people. I think they will laugh and cry, and I think it will help people with how they deal with everyday challenges."
Danielle Jones-Wesley contributed to this report.