Bond Turns 50: 'Goldfinger' still stands out as best of the 007 bunch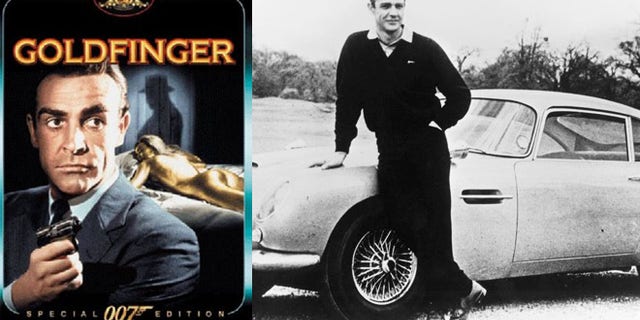 NEWYou can now listen to Fox News articles!
Over the next month Fox 411 Movies will be kicking back some martinis – shaken, not stirred, of course – and celebrating the 50th anniversary of James Bond (the first Bond film premiered )October 12, 1962) by taking a look back at the best of the 007 franchise in anticipation of the release of "Bond 50: The Complete 22 Film Collection."
We raise our first glass to "Goldfinger," the third, and arguably best, film based on Ian Fleming's 007 series. Fast cars, double-crossing women, slick gadgets and outrageous megalomaniacs spell Bond, James Bond and "Goldfinger" is the most essential, most quintessential of all Bond films.
Dodging bullets, hats and an army of beautiful women,007 -- with a license to kill -- races to stop international criminal Auric Goldfinger (Gert Fröbe), the man with the Midas touch, from infiltrating Fort Knox and destroying all its gold, thus making his own stash of treasure rise significantly in value.
Just as exciting, smart and sexy as when it premiered 48 years ago, "Goldfinger," more than any other Bond film, is a cinematic icon; From Robert Brownjohn's archetypal opening credits with images projected over a scantily clad Margaret Nolan, to Bond's signature Aston Martin DB5, to Shirley Eaton's naked, gold-painted body, to henchman Oddjob's weapon-of-choice: his hat, to Shirley Bassey's propulsive and legendary opening title song, "Goldfinger" remains a staple in movie history.
Sean Connery's indelible performance as 007 is still unrivaled, though his successors have each brought their own unique identity to the brand. Connery, though, is completely unmatched as the suave playboy super spy. Unlike Roger Moore, or even as recent as Pierce Brosnan, Connery's Bond is timeless. As the saying goes: Women want him. Men want to be him.
Bond films are silkily laced with sexual innuendo, none more apparent than the names of the female characters. Honor Blackman is the most iconic of the Bond women as Pussy Galore. Clever and sharp, bristling with sexual ferocity, Blackman's Pussy Galore is still Bond's greatest match and one of cinema's best female roles.
"Goldfinger" is also important because it introduces Bond's gadget quartermaster, Q, played by the inestimable Desmond Llewelyn. Llewelyn's tough love as Q has been a constant through all the Bond roster changes up through Pierce Brosnan. Where would 007 be without Q telling him to grow up?
John Barry's score ushered in a new style of swinging action music, taking Monty Norman's famous James Bond theme to iconic new levels. Barry breathed an entirely new sound and style into movies and truly gave the entire Bond franchise its soul and musical identity. There's no denying the impact Barry's opening title song, performed by Shirley Bassey, has had on the future, of not only the Bond franchise, but music for the movies overall. The song, with lyrics by Leslie Bricusse and Anthony Newly, was number 8 on Billboard's Hot 100 for 13 weeks, shooting Bassey and Barry to instant recognition and fame.
Before we finish our martini, let's not forget Bond's perfect knack for knowing just what to say and when to say it. Who can forget the opening scene when 007 electrocutes a thug in a bathtub then nonchalantly quips, "Shocking. Positively shocking." But nothing says Bond like this punchy and inimitable exchange:
Bond: "Do you expect me to talk?
Goldfinger: "No, Mr. Bond. I expect you to die."
"Bond 50: The Complete 22 Film Collection" will be available on Blu-ray on Sept. 25.