Batman V Superman' star Gal Gadot: Men obsessed with Wonder Woman's breasts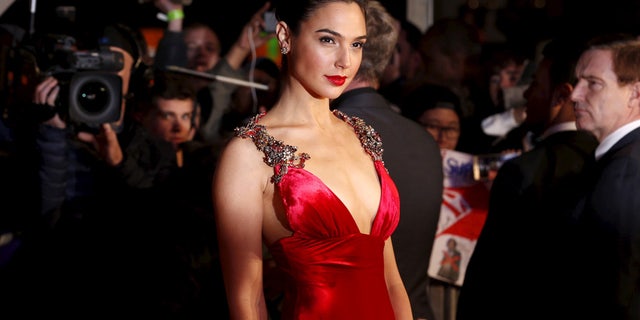 NEWYou can now listen to Fox News articles!
FIRST REVIEW: Leigh Paatsch gives verdict on Batman V Superman
FIRST LOOK: fans divided over Gal Gabot's Wonder Woman
Gal Gadot wants to change all that. While the character she plays, Wonder Woman, is one of the smaller players in Batman V Superman: Dawn Of Justice, she's one of the biggest deals in DC comic book universe — and makes one hell of an impression.
Next year Gadot will be one of the first females to headline her own major superhero movie, a Wonder Woman origin story currently filming in Europe, beating Marvel's announced but uncast Captain Marvel to the punch by a couple of years. And it's about damn time.
"I couldn't agree more," says the Israeli actor with a laugh. "Why has it taken so long? I'm not the one to ask this question. But I am definitely pleased with the fact that we are bringing Wonder Woman back to life and I think it is such an important thing for young girls — and boys — to have a strong female role model. The more the merrier and I hope we are starting a trend here.
"Ever since I became an actress I said I wanted to show the stronger side of women. Little did I know that soon after I would land this part."
Gender inequality has been a hot topic in Hollywood in recent times, dragged into the spotlight by Patricia Arquette's Oscar acceptance speech last year as well as the Sony hacking scandal that highlighted the disparity in pay between similarly qualified male and female actors.
Gadot, a beauty queen and model turned actor who also spent two years in the Israeli army, says she has been lucky so far, but that there is still a lot of work to be done.
"We definitely need more female writers and moviemakers and I truly believe we are in such an interesting era for women in all fields of life," she says. "There is a good, good, good momentum for women and I hope that it will continue going and the more we have the better."
But illustrating the point that Gadot is a trailblazing woman operating in a very blokey world was the internet reaction upon her casting as Wonder Woman. Of all the fantastical aspects of the long-running, beloved character, what was singled out for the most rigorous scrutiny?
Gadot's boobs, which apparently needed to be bigger.
"You know, men," Gadot says with a laugh and just hint of exasperation. "Every one of them is obsessed with breasts. Honestly, it amused me. It was funny for me that it's such an amazing character and all they have to critique is her bust. Me, as a person, I try not to pay too much attention to all the noise that comes when I get cast for something. Even if it's good or even if it's bad — because one day it's good and the other day it's bad, so I'd rather not pay attention to either."
Wonder Woman aka Diana Prince — a 5000-year-old Amazonian warrior princess from the fictional island of Themyscira — first appeared in DC Comics in 1942 and has been published almost continuously since then. But Gadot's incarnation in Batman V Superman is far from the cheesy 1970s TV series starring Lynda Carter that most people think of as Wonder Woman.
Born in 1985, Gadot is too young to remember Carter with her star-spangled hot pants and magic lasso. But the actor insists hers is a Wonder Woman for the world. On landing on the part, she had more than 75 years of comic book lore to draw on, as well as centuries of Greek mythology.
"This Wonder Woman is very different to the Wonder Woman you saw in the TV series back in the '70s," she says. "We are very loyal to the original story. Diana came from Themyscira, an island, she knows hundreds of languages, she has been around for 5000 years. (Director) Zack Snyder had a vision of the Wonder Woman he wanted to bring back and what story he wanted to tell. I had to come on board and embody everything and give my own notes and input and go for it.
"She is universal — she's not just for women or girls, she's not just for America or the Middle East, this is a Wonder Women for everyone."
Gadot initially thought she was auditioning for the part of Selina Kyle (aka Catwoman) when she was asked to read with the new Batman, Ben Affleck.
She was chosen from hundreds of hopefuls and is said to have narrowly beaten out former Bond Girl Olga Kurylenko and French actor Elodie Yung, who plays Elektra in the Netflix TV series Daredevil.
"When we met Gal Gadot, it was unanimous among us that she was special, that she personified Wonder Woman," says producer Deborah Snyder. "And as we got to know her and saw how she interacted with everyone, we knew that she was the right fit. Wonder Woman represents love and truth and sexual equality. Gal really embodies those characteristics."
Gadot also had to look the part: she gained 8kg of muscle and trained in Kung Fu, jiu-jitsu and sword play. She already had some action chops thanks to her appearances as revhead Gisele in the Fast and Furious franchise, not to mention the two years she spent as a combat instructor in the Israel Defence Forces, but still she endured nine months of gruelling training to nail the physicality of the character.
"In the Fast and Furious movies I had to go through a different type of preparation," she says. "It was about knowing how to do drifting with a car and how to use weapons etc. In this one, Wonder Woman is a warrior and she does hand to hand combat so I needed to learn different types of martial arts and how to fight with a sword and how to ride a horse and it was great. It was fun."
This story first appeared in news.com.au.