Barbara Walters announces her retirement through tears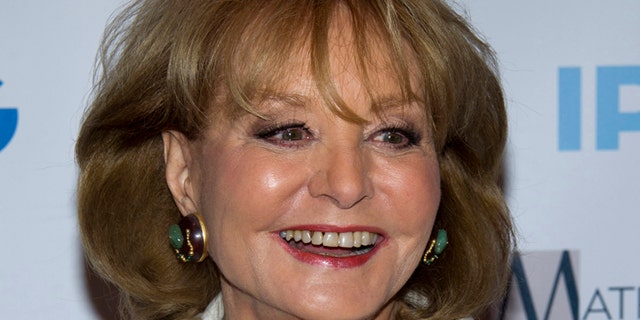 Barbara Walters is retiring.
Walters is told viewers she is retiring in another year following a television career that began in 1961.
She wiped away tears on ABC's "The View" on Monday after a taped piece summarizing her career.
Walters said she wanted to leave while people are still saying "why is she leaving?" instead of "why doesn't she leave?'" Walters is 83 years old.
New York City Mayor Michael Bloomberg visited the set for Walters' announcement, along with a host of top ABC and Disney executives.
ABC said in an announcement late Sunday that, until then, Walters will continue to anchor and report for the network, anchor specials throughout the year, and appear on "The View." She will remain executive producer of "The View," the weekday talk show she created in 1997.
Walters has spent 37 years at ABC News, joining the network in 1976 to become the first female co-anchor on an evening news program. Three years later, she became a co-host of ABC's "20/20" newsmagazine.
Before coming to ABC, she spent 15 years at NBC News, where she was a co-host of the "Today" show.
"I am very happy with my decision," Walters said, "and look forward to a wonderful and special year ahead.
"I do not want to appear on another program or climb another mountain," she added. "I want instead to sit on a sunny field and admire the very gifted women -- and, OK, some men, too -- who will be taking my place."
ABC News President Ben Sherwood said "there is only one Barbara Walters. We look forward to making her final year on television as remarkable, path-breaking and news-making as Barbara herself.
"We look forward to a year befitting her brilliant career," he said, "filled with exclusive interviews, great adventures and indelible memories."