Baldwin's dramatics: Alec loses his cool during court arrival, appears to cry on the stand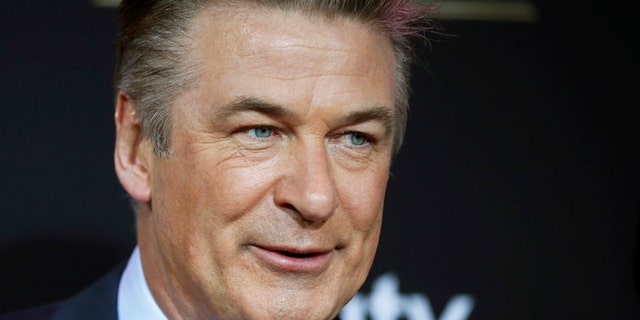 Alec Baldwin seemed bothered by the paparazzi yet again as he entered and exited a courthouse in New York on Tuesday for the trial his alleged stalker, Genevieve Sabourin.

"Liar!" Baldwin fumed at New York Post photographer G.N. Miller, as he made his way into the Manhattan Criminal Court. Last February, Baldwin allegedly launched into a racial tirade against Miller and his interaction with the photographer was captured by video cameras this morning.

As he left the court, Baldwin lashed out at reporters again. "I hope you choke to death," he can be heard saying in a video posted by TMZ.
The notoriously hotheaded star was in court for the case with Sabourin, who is accused of stalking the "30 Rock" actor.

An emotional Baldwin testified that he never had a sexual or romantic relationship with the Canadian actress, saying that after they met she began leaving dozens of voicemails for him a night and eventually started threatening to show up at his homes. During his testimony, the actor wiped at his eyes and paused, seemingly to compose himself, the Post reported.
The star said he had a meal with Sabourin at a friend's request, gave her an email address and phone number and later communicated with her about acting classes.
She began to barrage him with as many as 30 voicemails per night and hundreds of emails that started out as lovelorn and pleading, Baldwin said. They escalated into ominous threats to insinuate herself into his now-wife's yoga class and to come to his homes, even as he implored her to stop and threatened to call authorities, according to Baldwin.
"It was nightmarish," he said.
Sabourin had some outbursts as he testified, including: "You're lying!"
Sabourin says she and Baldwin had a 2010 tryst and a two-way exchange of emails. Her lawyer, Todd Spodek, has said Sabourin wasn't stalking the actor, just seeking closure after he stopped talking to her.
The Oscar-nominated Baldwin and Sabourin, who has appeared in Canadian movies and TV shows, met when he had a cameo and she was a publicist for the 2002 sci-fi comedy "The Adventures of Pluto Nash."
Fast-forward to April 2012, when Sabourin was arrested outside Baldwin's Manhattan apartment building.
Baldwin got engaged to and married the former Hilaria Thomas in 2012, after they began dating the year before. They had a daughter, Carmen, this past August.
Hilaria Baldwin also is expected to testify.
The Associated Press contributed to this report.