'Bachelorette' recap: Ousted contestant Sean Lowe says his love for Emily 'won't fade overnight'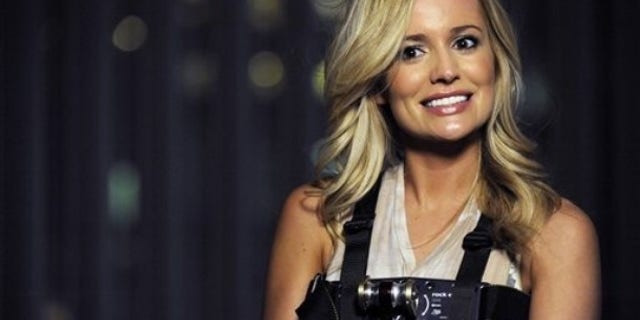 NEWYou can now listen to Fox News articles!
"Bachelorette" Emily Maynard may be known for her good-girl image, but the blonde beauty broke one contestants heart, leaving fan favorite Sean Lowe in the dust. And in last night's otherwise low-key "Men Tell All" episode, Lowe had the chance to profess his inevitably unrequited love.
For much of the season, fan favorite Lowe seemed like a potential match. Emily had even earlier called "marriage material." But all that changed when she shockingly sent him home at the end of last week's episode.
"I fell in love with that girl and I still have very strong feelings for her," he said to host Chris Harrison. "It never entered into my thoughts that I was going home that evening. I was thinking about being a father and a husband."
"She's an amazing person and that's not going to fade overnight," Sean added to deafening cheers from the audience.
READ: Guys pile on season's villains.
But other than Lowe's confession and previews promising a recap of the "most emotional season ever," the "Men Tell All" special of "The Bachelorette" Monday proved to be relatively anticlimactic compared to the craziness and catfights of seasons past.
This season's "villains," who dominated the recap episode, were nothing more than a couple of arrogant pretty boys—a far cry from last season's infamous bad girl, Courtney Robertson.
"I can deal with the, 'Oh don't gain weight once we're married' comment, but the trophy wife thing really hurt my feelings," Emily said with regard to arrogant jock Ryan Bowers' plethora of chauvinistic comments. "Because it's the whole 'love me for my heart and not because I'm the Bachelorette' thing."
Emily admitted that Ryan was, "tall, dark and handsome," but at the same time, he "knew how to sweet talk a girl."
According to the Bachelorette, she and Ryan were on different pages about several issues, resulting in his getting dumped.
On the whole, however, their reunion on "Men Tell All" was quite cordial, with Ryan shooting the Bachelorette winks and grins every chance he got.
The conversation shifted over to Kalon McMahon, who made headlines after arriving at the first episode in a helicopter.
Kalon was canned after making a comment deeming Emily's daughter Ricki "baggage," as well as a slew of other arrogant statements.
"It still makes my blood boil," Emily recounted. "I think he knew there were other guys I liked in the group more than him and he's used to being a big fish in a little pond."
Donning a designer wardrobe and a condescending smirk, Kalon apologized to the Bachelorette for his remarks. Emily responded with a confident smile, suggested the Texas socialite become a politician, and cited a recent tweet of Kalon's, in which he took a picture of a baggage claim and posed the question of why Emily wasn't there.
"I'm not one of the those people who takes social media seriously," Kalon said backtracking, clearly surprised Emily had viewed the tweet.
Yet Emily reminded him of his comment to all of his Twitter followers who deemed the comment inappropriate: "Sorry I'm not sorry."
"You were there for the spotlight," the other men told Kalon.
Emily will decide between race car driving, dreamy Arie Luyendyk and skinny-jean clad, hipster Jef Holm in next week's three hour finale airing Sunday, July 22. The episode will be followed by the first ever live edition of "After the Final Rose." It all kicks off at 8 p.m. on ABC.