'Avatar,' Sandra Bullock, Jeff Bridges Win Top Honors at Golden Globes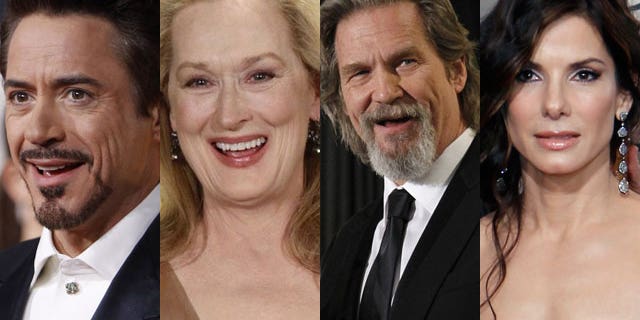 BEVERLY HILLS, California – The science-fiction blockbuster "Avatar" has won best drama at the Golden Globes and picked up the directing honor for James Cameron, raising the "Titanic" filmmaker's prospects for another Academy Awards triumph.
Winning the dramatic-acting honors were Sandra Bullock for the football tale "The Blind Side" and Jeff Bridges for the country-music story "Crazy Heart."
The acting prizes for musical and comedy went to Meryl Streep for the Julia Child story "Julie & Julia" and Robert Downey Jr. for the crime romp "Sherlock Holmes." The supporting-performance Globes were won by Mo'Nique as an abusive welfare mother in "Precious" and Christoph Waltz as a gleefully bloodthirsty Nazi in "Inglourious Basterds."
The blockbuster "Up" came away with the award for animated film.
While Streep is a perennial at awards shows, the prize marked a dramatic turning point for Mo'Nique, who was mainly known for lowbrow comedy but startled audiences with her ferocious performance in "Precious: Based on the Novel `Push' By Sapphire."
"First let me say, thank you, God, for this amazing ride that you're allowing me to go on," the tearful Mo'Nique told the crowd.
She went on with gushing praise for "Precious" director Lee Daniels and newcomer Gabourey Sidibe, a best dramatic actress nominee at the Globes with her first film role, playing Mo'Nique's abused, illiterate daughter.
"Lee Daniels, the world gets a chance to see how brilliant you are. You are a brilliant, fearless, amazing director who would not waver, and thank you for trusting me," Mo'Nique said. "To Gabby, sister, I am in awe of you. Thank you for letting me play with you."
Streep's competition for best actress in a musical or comedy included herself. She also was nominated for the romance "It's Complicated."
"I just want to say that in my long career, I've played so many extraordinary woman that I'm getting mistaken for one," Streep said. "I'm very clear that I'm the vessel for other people's stories and other people's lives."
The Globes were a mix of far-out fantasy and ripped-from-the-headlines reality at the Golden Globes, Hollywood's first major film honors that will help sort out the Oscar picture.
Contenders for best drama include two wildly make-believe adventures, the science-fiction spectacle "Avatar" and the war story "Inglourious Basterds," which rewrites the end of World War II with a gleefully vengeful bloodbath at a movie premiere.
Also competing are timely dramas of the war on terror ("The Hurt Locker") and economic hard times ("Up in the Air"), along with the grim but inspiring "Precious," with Sidibe as a Harlem teen struggling to lift herself out of an abyss of neglect.
Though one of Hollywood's biggest parties, the Globes bore somber reminders of tragedy in the real world, many stars wearing ribbons in support of earthquake victims in Haiti.
Films from Pixar Animation, the Disney outfit that made "Up," have won all four prizes for animated movies since the Globes introduced the category in 2006. Past Pixar winners are "WALL-E," "Ratatouille" and "Cars."
"Up" features the voice of Ed Asner in a tale of a lonely, bitter widower who renews his zest for adventure by flying his house off under helium balloons to South America, where he encounters his childhood hero and a hilarious gang of talking canines.
"When it came to finding the heart of the film, we didn't have to look very hard," said "Up" director Pete Docter, whose film also won for musical score. "Our inspiration was all around us. Our grandparents, our parents, our wives, our kids. Our talking dogs."
James Cameron's sci-fi epic "Avatar" came in with four nominations but lost its first two categories, for song and musical score. Cameron's tale -- which has soared up the box-office charts with $1.6 billion worldwide, second only to his own "Titanic" at $1.8 billion -- had to wait until the end of the show for its next categories, best director and drama.
The song prize went to "The Weary Kind" from the country-music drama "Crazy Heart."
Michael C. Hall won for best actor in a TV drama for "Dexter," in which he plays a serial killer with a code of ethics, killing only other murderers. Hall's publicists revealed this past week that Hall is being treated for Hodgkin's lymphoma and that the cancer is in remission.
"It's really a hell of a thing to go to work in a place where everybody gives a damn. That's really the case with `Dexter,"' Hall said. "It's a dream job. I'm so grateful."
"Dexter" also won the supporting-actor TV honor for John Lithgow. Other TV winners included Juliana Margulies as best actress in a drama for "The Good Wife" and Toni Collette as best comedy actress for "The United States of Tara."
The rain-drenched red carpet was a rare sight for an awards show in sunny southern California, stars in their finery getting damp under umbrellas as storms swept the region.
The Globes got a makeover, featuring Ricky Gervais as master of ceremonies, the first time in 15 years the show had a host.
Gervais opened by mocking Steve Carell, star of the U.S. version of "The Office," based on Gervais' British comedy series. While a stone-faced Carell watched, Gervais yammered on about how fans love Carell and wonder where he gets his ideas from.
Carell then mouthed and pantomimed, "I will break you," to Gervais, an executive producer on the U.S. version of the show.
Gervais joked about the international causes near and dear to Hollywood stars.
"You can be a little Asian child with no possessions and see a picture of Angelina Jolie and you think, `mommy,"' he said.
Gervais also jokingly marveled that his 2009 comedy "The Invention of Lying" was not nominated. The movie bombed with critics and audiences.
With stars sharing dinner and drinks, the Globes traditionally are a loose and relaxed affair compared to the courtly Oscars. Celebrities sometimes are caught more in reality-show mode -- Jack Nicholson once mooned the crowd for a laugh, and Christine Lahti had to rush from the restroom to collect her Globe for the TV drama "Chicago Hope."
Also unlike other Hollywood film honors, the Globes feature categories for musicals and comedies along with dramas. Nominated for best musical or comedy are the Vegas bachelor romp "The Hangover," "Julie & Julia," the musical "Nine" and the romances "(500) Days of Summer" and "It's Complicated."
Among other acting nominees are Sandra Bullock for "The Blind Side" and Matt Damon for both "The Informant!" and "Invictus."
Martin Scorsese, who won the best-director Globe three years ago for "The Departed," is receiving the Cecil B. DeMille Award for career achievement.
Sunday's winners could get a last-minute boost for the Oscars, whose nominations balloting closes Saturday. Last year's big Globe winner, "Slumdog Millionaire," went on to dominate the Oscars.
The Globes are presented by the Hollywood Foreign Press Association, a group of about 90 reporters covering show business for overseas outlets. The show airs live on NBC.