'Globes' Nominee Bullock Says She's In Best Spot of Her Career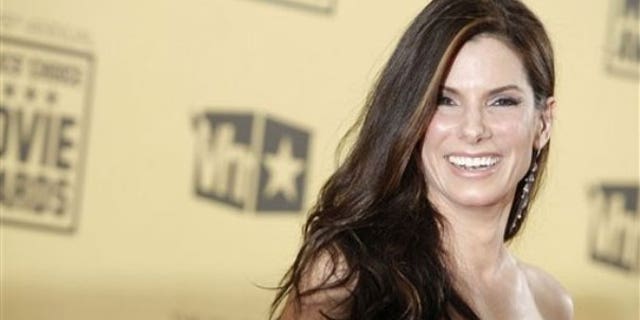 NEWYou can now listen to Fox News articles!
Even if Golden Globes double-nominee favorite Sandra Bullock doesn't take home the coveted statue on Sunday for Best Performance by an Actress in a Motion Picture Comedy for "The Proposal" or for Best Performance by an Actress in a Motion Picture Drama for her work in the inspirational true story "The Blind Side," the filming experience has at least helped the Hollywood starlet broaden her friendship circle.
"I met this extraordinary family the Touhys (who the film was based on), who I wish I would have remembered to thank since they already did the extraordinary deed and Michael Oher did the most extraordinary thing in opening his heart and allowing himself to be enveloped by this family," Bullock excitedly told us backstage at the Critics Choice Awards on Friday after co-winning with (and mouth kissing) Meryl Streep. "They changed my life and I am so happy to call them friends.
And they're Republicans, and I'm okay with that and they're okay with me being a Democrat!"
And while most celebrities would like to think their best days are still ahead of them, the 45-year-old had no shame in confessing that her professional life has hit its peak.
"I'm just so happy to be here and I got to share the stage with Meryl Streep," Bullock gushed. "I just adore her, so that for me was the height of my career and it just happened. I'm so thankful and it's unexpected, as most good things are."
But back to "The Blind Side," the film also taught Bullock what it takes to kick some balls. Sort of.
"My husband was a big football player. I knew nothing of the sport even though I was a cheerleader, which is very sad. But I have such tremendous respect and understanding now of what it takes to be a professional athlete that I didn't have before -- mentally, physically and emotionally," Bullock recently told us while promoting "The Blind Side," which was inspired by a true story. "I really had no idea. And the coaches really become the parents to so many, and basically save lives."
On that note, Bullock has some words of wisdom.
"You're not allowed to sit as a coach, all fat with your beer and complain that your player isn't doing what you want them to do," she said. "Unless you can do that yourself, I think you should just be quiet."
And although Bullock has managed to win over audiences (and Golden Globe deciders the Hollywood Foreign Press Association) with her role as Leigh Anne Tuohy in the emotionally-charged, all-American film, she insisted she isn't as a patch on the real life Tuohy when it comes to guts.
"I have no moxy compared to Leigh Anne Tuohy. I am a slug compared to Leigh Anne Tuohy and I will admit I bow down to Leigh Anne Tuohy," Bullock said. "She scares me and she inspires me and she had such an interesting upbringing. She is so unafraid to barrel through and she doesn't care who she insults along the way. She doesn't care what bridges she burns, she has an objective and she is going to get it done and she can get it done. You do not want to cross Leigh Anne."