Are stars hospitalized for 'exhaustion' really just sleepy?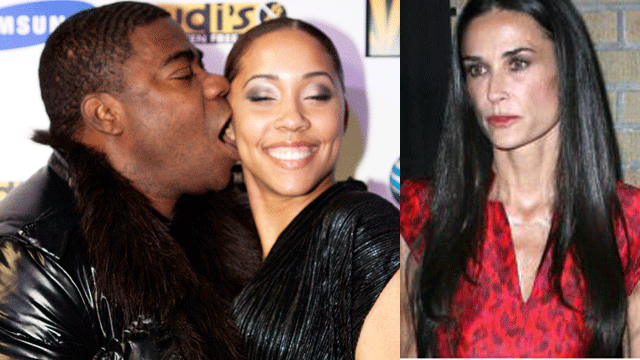 Drug addiction, eating disorders, depression, three-day benders -- experts say these are just a few of the conditions Hollywood publicists sometimes try to cover up using the blanket term "exhaustion."
This week, Demi Moore's publicist said her client was seeking "professional assistance to treat her exhaustion and improve her overall health," amidst widespread reports that she was hospitalized for substance abuse and eating disorders.
"30 Rock" star Tracy Morgan's team issued a similar statement last weekend, saying their client was hospitalized for exhaustion caused by high altitudes at the Sundance Film Festival in park City, Utah.
While exhaustion is a very real condition, in Hollywood it can also mask all manner of sins, not simply being sleepy.
"Exhaustion is the key word that covers everything. It allows PR to respond without saying anything," explains gossip columnist Rob Shuter, former publicist to Sean Combs, Jessica Simpson, Paris Hilton and Jennifer Lopez. "It also it means you are not lying,rather [you are] not telling the whole truth."
Among the celebrities whose publicists have claimed were exhausted are the late Amy Winehouse, Lindsay Lohan (too many times to count), Colin Farrell, Ashlee Simpson, Richie Sambora, Dave Chapelle, Janet Jackson and Whitney Houston.
"I had a client rushed to the hospital after three straight days and nights of partying," one publicist of a troubled star revealed to Fox411. "Exhaustion was our excuse. She was definitely tired, but that's not why she went to the hospital."
Which isn't to say that exhaustion isn't an actual thing. Emergency room doctors tell Fox411 they see patients come in with exhaustion and fatigue all the time.
"We have many people come in feeling fatigue and weakness and exhaustion and our job is to find out the cause," explained ER doctor Dr. Tara, Associate Medical Director of the Emergency Department at Lenox Hill Hospital in New York City. "Exhaustion is more a symptom than a diagnosis and people can have it for many different reasons, among them dehydration, metabolic problems, infections or hormone abnormalities."
While it may be a real problem, exhaustion is also a Hollywood scapegoat. Beverly Hills addiction specialist Marty Brenner frequently works with celebrities who have claimed exhaustion as a cover-up to their substance abuse issues.
"When their publicists say exhaustion, it means they are having a hangover. They went out to party last night. They drank too much and then the PR guy will say they are exhausted," Brenner told Fox411. "Those are just excuses. If they're just promoting a movie or a show there is no reason they would be exhausted."
Addiction experts wish the exhaustion blanket would just go away. It actually harms their efforts to de-stigmatize substance abuse treatment.
"It is damaging to the field of addiction," says Dr. Paul Hokemeyer an addiction speciality with Caron Treatment Center. "It is important for celebrities in particular to be honest about their challenges and struggles. The only way to eliminate the shame and stigma surrounding addiction id for people to be open and honest about their problems."
Hokemeyer added that rehab is not where people go to get treated for exhaustion: "People go to spas for exhaustion, and rehabs are not spas."