Anti-Trump porn star lawyer Michael Avenatti suddenly vanishes from CNN studios after dozens of interviews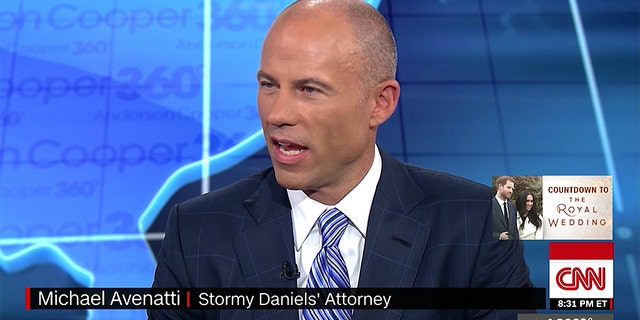 NEWYou can now listen to Fox News articles!
Just last week, Michael Avenatti was the darling of CNN but the attorney representing adult film star Stormy Daniels has seen his appearances reduced amid newfound scrutiny. Is it a coincidence or something more?
On Tuesday, a federal bankruptcy court judge in Southern California ordered a law firm managed by Michael Avenatti to pay $10 million to an attorney who claimed that the firm stiffed him on the first installment of a $4.85 million settlement -- resulting in critics labeling him a "tax cheat" on social media.
The decision was the latest setback for Avenatti, who ascended to CNN stardom during Daniels' fight against a confidentiality agreement preventing her from discussing an alleged 2006 sexual encounter with Donald Trump -- an encounter Trump denies (the complaints against Avenatti are not related to his representation of Daniels).
Avenatti did not appear on CNN Tuesday, and had not appeared Wednesday by the time of publication, according to a review of transcripts and CNN programming conducted by Fox News.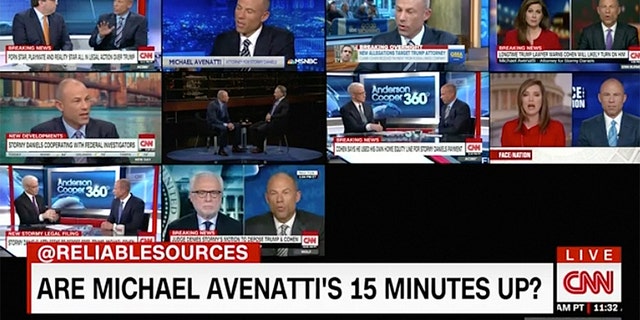 This would mark a stark contrast to the last few months when Avenatti essentially turned CNN's green room into his second home. Last week, Rich Noyes and Bill D'Agostino of the Media Research Center reported that from March 7 to May 15, Avenatti was interviewed on national television a whopping 147 times – with 74 of the appearances on Jeff Zucker's CNN.
Avenatti appeared on TV another seven times since the study was conducted, but only one of the appearances was on CNN – a May 22 appearance on "Anderson Cooper 360," according to the MRC, which noted it was the lawyer's 22nd appearance on "AC 360."
"I am scheduled to be on a number of networks including CNN. I have been dealing with some medical issues for a close family member that I am caring for."
"I am scheduled to be on a number of networks, including CNN. I have been dealing with some medical issues for a close family member that I am caring for," Avenatti told Fox News when asked why he had not been on CNN as frequently.
Shortly after Fox News reached Avenatti for comment, he took to Twitter: "Now this is FUNNY. Just got an inquiry from @foxnews wanting to know why I haven't been on TV that much lately. They are clearly looking to claim that something must be wrong with me or the networks must not want me. This, after criticizing me for being on TV too much. #priceless."
CNN did not respond when asked why Avenatti hasn't been on or whether or not he has any scheduled appearances.
On Wednesday, Avenatti decided to lock his frequently used Twitter account, which has over 500,000 followers. He claimed he wants to control who sees the messages he sends out – but critics didn't understand the logic behind his explanation.
"I purposely locked my account due to the following: a) bots; b) abusive trolls; and c) we will be releasing some sensitive info in the coming weeks and I want to somewhat control who has initial access to it," Avenatti wrote.
A CNN insider told Fox News last week that CNN "might as well lay off its whole reporting staff and save millions of dollars" due to Avenatti's "takeover" of the cable network. Also last week, when Avenatti was still the toast of liberal media, he was spotted partying at the posh weekend home of CNN star Don Lemon.
Last Sunday, CNN's "Reliable Sources" aired a segment with the chyron asking, "Are Michael Avenatti's 15 minutes up?" It's bizarre to think that the same network that booked Avenatti over 75 times since March would question if his spotlight was dwindling, but nonetheless CNN's resident media guru Brian Stelter did just that – although he used an ongoing tactic of posing his thoughts in the form of a question.
"I do think there is a legitimate question about whether Avenatti has been overexposed by being on television almost every day," Stelter proclaimed.
Less than 72 hours before CNN declared that Avenatti could be overexposed, Media Research Center Director of Media Analysis Tim Graham penned a column headlined, "CNN + Michael Avenatti = L-O-V-E: Mainstream media's incredible, obsessive romance with Stormy's attorney," which detailed the network's fixation with the porn star lawyer.
Since then, CNN political analyst Ryan Lizza has taken to Twitter to express his disdain for Avenatti's recent actions, which include blocking Lizza and other reporters from viewing his tweets.
"Lol. Michael Avenatti is such a champion of the press, truth, and the First Amendment that he blocks reporters covering him after mildly critical tweets and then pretends he didn't do it," Lizza wrote after Avenatti claimed he didn't purposely block him.
"It's not credible that it was inadvertent—you blocked me & other reporters [sic] mins after critical tweets," Lizza fired back.
TheWrap media editor Jon Levine chimed in, "I would urge everyone to read in which Michael Avenatti says he 'inadvertently' blocked a reporter. This could be heading into Joy Reid territory."
Avenatti recently made headlines by threatening to take legal action against reporters who reported unfavorable news about him, including The Daily Caller, The Hollywood Reporter and Law & Crime. He even talked down to the Los Angeles Times reporter who revealed that he was hit with the $10 million judgement in bankruptcy court.
"Over blown. Sensational reporting at its finest. Check the facts next time please and report accurately," Avenatti wrote without providing any evidence of what was inaccurate.
He called the story "irrelevant" in a statement to the paper.
It remains to be seen if Avenatti's 15 minutes are actually up amid ongoing turmoil, or if he is simply too busy with family issues to appear on CNN. Either way it's safe to assume that we'll find out shortly.
Fox News' Samuel Chamberlain, Brooke Singman, Lukas Mikelionis, Kristin Brown and The Associated Press contributed to this report.