Anti-Trump ESPN star Jemele Hill plans to eventually ditch sports network for race, gender content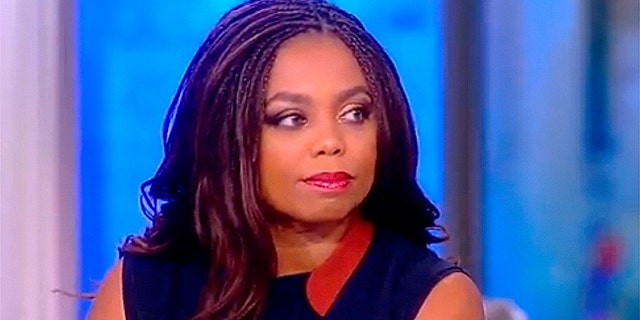 NEWYou can now listen to Fox News articles!
ESPN's controversial anti-Trump star Jemele Hill announced her intent to eventually walk away from sports to create content about "women of color" and to help dismantle institutional racism.
"Somebody needs to step up and save us," Hill said during an in-depth conversation at OZY Fest on Sunday.
Hill, who famously called President Trump a "white supremacist" on Twitter last year, is an outspoken liberal who frequently dives into politics on social media and was even criticized by Press Secretary Sarah Sanders during a press briefing last year. ESPN initially declined to punish her for the tweet but then sidelined her for two weeks in October when she violated the company's social media guidelines a second time by calling on fans to boycott the Dallas Cowboys' advertisers after owner Jerry Jones told players they would be benched if they did not stand up during the national anthem.
While discussing her the next chapter of her career, Hill said that sports will not make up the bulk of her future.
"It's sort of a realization… I'll be candid. Obviously some of the things that have happened in the last 10, 11 months have played a role in that. But even before any of that stuff happened with Donald Trump, I was feeling… I just wondered to myself, when my contract with ESPN was up, in a few years, whether or not I would continue on… in sports period," Hill said. "There is a real concentration, still a real need, on stories about women of color… that will be a huge focus of what I do."
ESPN re-assigned Hill from its flagship "SportsCenter" earlier this year to a new role at The Undefeated, the company's site that covers the intersections of sports and race. Hill said that she loves sports media but it "really excited" the next phase of her professional life.
"It feels very much like this next iteration of my career will be more about me being behind the camera, creating content, writing scripted and unscripted shows and movies than it will be in sports."
"It feels very much like this next iteration of my career will be more about me being behind the camera, creating content, writing scripted and unscripted shows and movies than it will be in sports," Hill said. "There is a part of me that feels sad about the possibility, the very real possibility, my connection [with sports media] may end sooner than I thought it would."
She called leaving sports media a "bittersweet" feeling and mentioned that she has been approached about campaigning, but can't as a working journalist. The former "SportsCenter" host also said she has been mentioned as a potential political candidate herself but downplayed the idea."
"I've got skeletons… that's not my calling," Hill said of running for office.
Hill said that she has a few years left on her contract at ESPN but admitted she could walk away before her current deal expires if the right situation arises.
"There is a part of me, I do wonder if that thirst, that itch to fully wholly jump into content creation… that opportunity to do that will come before this contract is up," Hill said. "It's certainly possible with some of the opportunities that have come my way in the wake of all the controversy."
Hill said she hasn't "made a bad career decision yet" and will listen to her gut.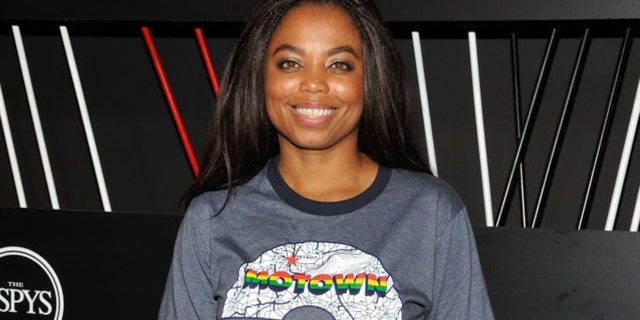 "I'll know the right opportunity when it comes," Hill said. "Even though I might leave sports, I'm not leaving behind writing and creating content."
Hill then explained that black women don't always have a space to express trauma they've suffered through. She hopes to give a voice to people victims of racism, but feels racism is "far too comfortable" in modern America.
Hill said that sports have "never been about just sports" and people who demand ESPN personalities "stick to sports" and avoid politics are most likely hypocrites because they worship people such as Muhammad Ali – who went from polarizing political figure to celebrated athlete.
"The people that criticize Colin Kaepernick now, I wonder how they will sound 20 years from now," Hill said.
As news of Hill's comments made headlines, she took to Twitter to quell any thoughts that her ESPN exit would be swift.
"Headline might be a little sexier than what I actually said. Plotting the next 10-to-15 years of my career is kind of the way you have to think in this business. There are other things I want to do besides sports, but plenty I still want to do/will do at ESPN," Hill tweeted on Monday regarding an OZY headline stating she planned to leave ESPN.
Hill's widely panned 6 p.m. ET edition of "SportsCenter" – dubbed "SC6" -- was designed to give the program an urban feel and reach a younger audience, but it failed to resonate with viewers and the format was scrapped. ESPN has said the move was Hill's choice, but sports talk radio host Clay Travis tweeted that she was "booted" due to "collapsing ratings."
In September 2017, Hill tweeted, "Donald Trump is a white supremacist who has surrounded himself with other white supremacists." Hill also called Trump a "bigot" and "unqualified and unfit to be president." She added, "If he were not white, he never would have been elected."
Hill's anti-Trump comments caught the attention of the White House and Press Secretary Sarah Sanders, who said she considered the rhetoric a "fireable offense." Trump even got involved himself, mocking Hill and ESPN's lackluster ratings.
ESPN did not immediately respond to a request for comment.