Russia's Macho Man Putin Wields Cross Bow in Whale Tracking Stunt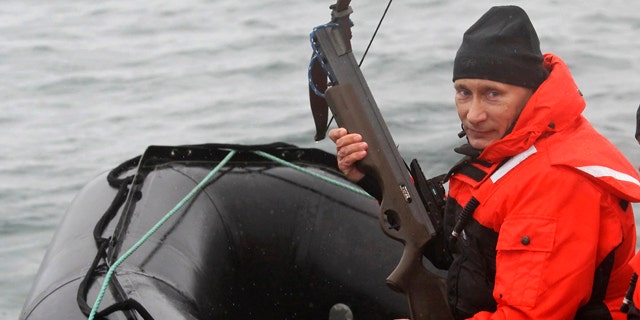 Russian Prime Minister Vladimir Putin offered the world his latest display of machismo on Wednesday-- this time tracking endangered whales.
Speeding across rough Pacific waters with crossbow in hand, Putin managed to enhance his tough guy image as well as showing his softer side.
The 57-year-old former KGB spy was clearly exhilarated by the experience, which took place off Russia's far eastern coast in Olga Bay in the Sea of Japan.
He described how he fired a special dart into an endangered grey whale to get a skin sample while participating in a whale research study with members of the Kronotsky Biosphere Reserve.
"There was a real feeling of exhilaration," he said. "I missed three times but hit on the fourth attempt."
His exploits graced state run news channels across Russia -- all were keen to point out Putin's bravery in attempting the challenge in such rough conditions.
When questioned about the risk, he said: "Living in general is dangerous."
In April he attached a satellite-tracking collar on a tranquilized polar bear.
He has also shot a Siberian tiger with a tranquilizer gun and released leopards into a wildlife sanctuary.
This latest PR activity fuels his image as healthy, active and brave ahead of presidential elections in 2012, when it is rumored he may return and serve a third term as Russia's president.