Popular prom queen killed in Texas flooding just miles from her home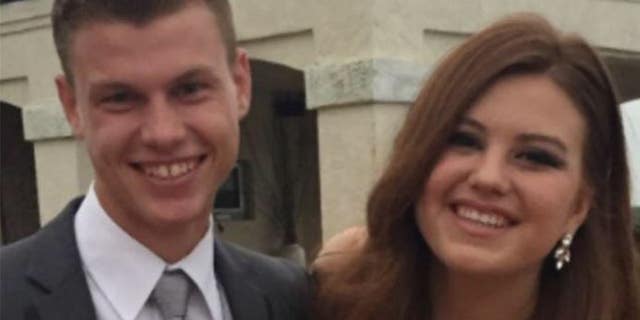 NEWYou can now listen to Fox News articles!
A popular high school prom queen from Texas died this weekend after she drowned in raging floods that have forced thousands to evacuate.
According to Fox29 in San Antonio, Alyssa Ramirez of Devine, Texas, was on her way home after post-prom celebrations when her car stalled out in high water just a couple of miles from home.
"She did the right things," Alyssa's aunt Roberta Ramirez told Fox 29. "She called 911. She called her father, but it was just too much and too quick."
Alyssa's mother and father went to look for her, but the floods had already swept away her car.
"They weren't able to find her until this morning. When crews were out there, they were able to locate the vehicle, which wasn't too far away," said Roberta.
Alyssa was the homecoming queen, a cheerleader, a volleyball player and a tennis player. Classmates told Fox29 that she'll be remembered for her vibrant smile.
Devine High School will honor Alyssa during a flagpole service Tuesday morning.
In the U.S., a line of storms that stretched from the Gulf of Mexico to the Great Lakes dumped record rainfall on parts of the Plains and Midwest, spawning tornadoes and causing major flooding that in Texas destroyed or damaged more than 1,000 homes and forced at least 2,000 residents to leave their homes.
"You cannot candy coat it. It's absolutely massive," Texas Gov. Greg Abbott said after touring the destruction.
The governor has declared disaster areas in 37 counties so far, allowing for further mobilization of state resources to assist.
The worst flooding damage was in Wimberley, a popular tourist town along the Blanco River in the corridor between Austin and San Antonio.
Witnesses reported seeing the swollen river push a vacation home off its foundation and smash it into a bridge. Only pieces of the home have been found, Hays County Judge Bert Cobb said.
One person who was rescued from the home told workers that the other 12 inside were all connected to two families, Cobb said. Young children were among those believed to be missing.
The Blanco crested above 40 feet — more than triple its flood stage of 13 feet. The river swamped Interstate 35 and forced parts of the busy north-south highway to close. Rescuers used pontoon boats and a helicopter to pull people out.
Hundreds of trees along the Blanco were uprooted or snapped, and they collected in piles of debris that soared 20 feet high.
Flooding wreaked havoc late Monday afternoon in Austin, where emergency crews responded to more than 20 high-water rescues, and later in Houston, where the National Weather Service declared a flash flood emergency and an announcer at the Houston Rockets game asked fans not to leave because of severe weather.
The storm system also prompted reports of tornadoes across the state and was blamed for four deaths: a man whose body was pulled from the Blanco; a 14-year-old who was found with his dog in a storm drain; a high school senior who died Saturday after her car was caught in high water; and a man whose mobile home was destroyed by a reported tornado.
The Oklahoma Department of Emergency Management also reported four fatalities between Saturday and Monday across the state, which also saw severe flooding and reported tornadoes.
Includes reporting by The Associated Press and Fox59.
Like us on Facebook
Follow us on Twitter & Instagram