Philippines Typhoon Victims Await Assistance As Latin America And U.S. Send Aid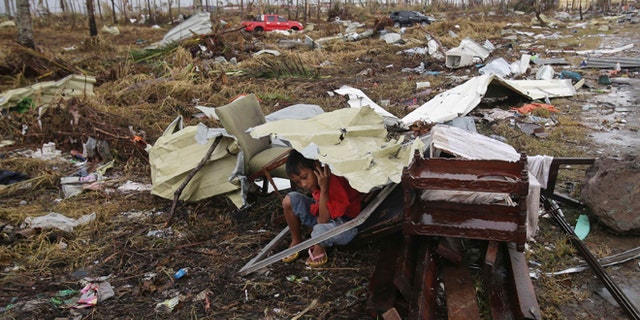 The day after Typhoon Haiyan struck the eastern Philippine coast, a team of 15 doctors and logistics experts from Médecins Sans Frontières was in Cebu island, south of Manila, ready to fly to Tacloban, the worst-hit city. On Tuesday, five days into what could be the country's deadliest disaster, they were still waiting to leave.
Aid is coming to Tacloban: medical supplies, pallets of water and food piled on trucks, planes and ferries, sent by the Philippine government and countries around the world. But the scale of the disaster and challenges of delivering the assistance means few in this city, strewn with debris and corpses, have received any help.
"We are in contact with the authorities, but the (Tacloban) airport is only for the Philippines military use," said a spokesman from Médecins Sans Frontières, Lee Pik Kwan, in a telephone interview.
At the medics' intended destination, thousands of typhoon victims were trying to get out. They camped at the airport and ran onto the tarmac when planes came in, surging past a broken iron fence and a few soldiers and police trying to control them. Most didn't make it aboard.
"We need help. Nothing is happening," said Aristone Balute, an 81-year-old who didn't get on a flight out of the city. "We haven't eaten since yesterday afternoon." Her clothes were soaked from the rain, and tears streamed down her face.
While it has been difficult for aid to arrive to some locations across the storm-ravaged nations, this fact has not deterred friendly nations from offering assistance to the Filipino people.
On Monday, two U.S. C-130 transport planes filled with relief supplies and a contingent of troops flew from Manila's Vilamor air base to Tacloban. Washington has promised $20 million in aid to the ravaged nation, while the USS George Washington, currently in Hong Kong, is making final preparations to deploy to the Philippines.
In Latin America, the Chilean government pledged earlier this week to send humanitarian aid to the Philippines and noted that it had been in contact with the about 50 Chileans residing in the country.
"Our embassy is getting in touch with Filipino authorities to find out what their needs are and how we can collaborate," Chilean Foreign Minister Alfredo Moreno told reporters.
Both Colombia and Peru officials expressed solidarity with the Filipino people, while the Colombian government suggested over the weekend that it would provide assistance to the victims. It did not, however, give specifics of what form the assistance would come in.
Doctors in Tacloban said they were desperate for medicine. Beside the ruined airport tower, at a small makeshift clinic with shattered windows, army and air force medics said they had treated around 1,000 people for cuts, bruises, lacerations and deep wounds.
"It's overwhelming," said Air Force Capt. Antonio Tamayo. "We need more medicine. We cannot give anti-tetanus vaccine shots because we have none."
The longer survivors go without access to clean water, food, shelter and medical help, the greater chance of disease breaking out and people dying as a result of wounds sustained in the storm.
The official death toll from the disaster rose to 1,774 on Tuesday, though authorities have said they expect that to rise markedly. They fear estimates of 10,000 dead are accurate and might be low. More than 9 million people have been affected across a large swath of the country, many of them made homeless.
Tacloban, a city of about 220,000 people on Leyte island, bore the full force of the winds and the tsunami-like storm surges. Most of the city is in ruins, a tangled mess of destroyed houses, cars and trees. Malls, garages and shops have all been stripped of food and water by hungry residents.
The loss of life appears to be concentrated in Tacloban and surrounding areas, including a portion of Samar island that is separated from Leyte island by a strait. It is possible that other devastated areas are so isolated they have not yet been reached.
"There is no help coming in. They know this is a tragedy. They know our needs are urgent. Where is the shelter?" said Aristone Balute's granddaughter, Mylene, who was also at the airport. "We are confused. We don't know who is in charge."
The United Nations said it had released $25 million in emergency funds to pay for emergency shelter materials and household items, and for assistance with the provision of emergency health services, safe water supplies and sanitation facilities. It's launching an appeal for more aid.
Along with the U.S., the UN and some Latin American nations, aid totaling tens of millions of dollars has been pledged by many other countries, including Japan, Australia and Britain, which is sending a Royal Navy vessel with supplies.
The Associated Press contributed to this report.
Follow us on twitter.com/foxnewslatino
Like us at facebook.com/foxnewslatino