Japan's defense minister visits controversial shrine after Pearl Harbor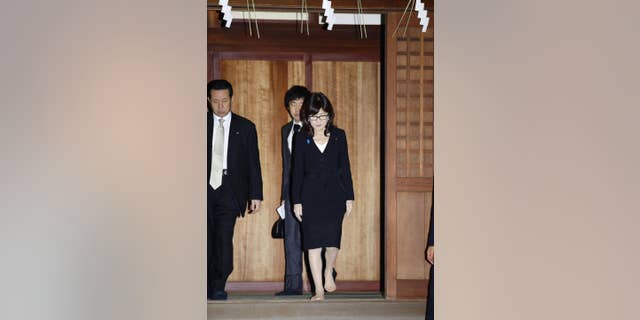 Japan's Defense Minister Tomomi Inada, just back from Pearl Harbor, on Thursday visited a Tokyo shrine that honors Japan's war dead, including convicted war criminals.
JAPAN'S ABE OFFERS 'EVERLASTING CONDOLENCES' AT PEARL HARBOR
The visit, and one by another Cabinet minister the day before, drew rebukes from neighboring South Korea and China.
Inada accompanied Prime Minister Shinzo Abe during his visit this week to Hawaii's Pearl Harbor, where he offered condolences to those who died in the Japanese attack there in 1941.
VIDEO: DOES JAPANESE PM OWE UNITED STATES AN APOLOGY FOR PEARL HARBOR ATTACK?
Japan's Asian neighbors harbor bitter memories of the country's atrocities before and during World War II, when it colonized or invaded much of the region. So visits by top Japanese leaders to the shrine often draw complaints from countries such as China and South Korea that see them as attempts to whitewash that history of wartime aggression.
Abe's visit to Yasukuni in December 2013 caused such an uproar that he has since instead sent gifts of money and religious ornaments.
Japan's Kyodo News service reported that Abe, who was golfing outside Tokyo, refused comment when asked about Inada's visit.
The defense minister doffed her shoes on her way into the shrine, and afterward told waiting journalists, "Regardless of differences in historical views, regardless of whether they fought as enemies or allies, I believe any country can understand that we wish to express gratitude, respect and gratitude to those who sacrificed their lives for their countries."
China's CCTV news and its official Xinhua News Agency remarked on the visit's timing.
South Korea's Foreign Ministry said it was "deplorable" that Inada had visited a shrine that "beautifies past colonial invasions and invasive war and honors war criminals."
The ministry summoned Kohei Maruyama, a minister at the Japanese Embassy in South Korea, to lodge a protest over the Yasukuni visit.
The country's Defense Ministry expressed "serious concern and regret."
Inada's visit was her first since becoming defense minister last summer, though she has regularly visited it in the past. A lawyer-turned-lawmaker with little experience in defense, she is one of Abe's proteges and backer of his long-cherished hope to revise Japan's Constitution.
Inada has defended Japan's wartime atrocities, including forcing many Asian women into sexual servitude in military-linked brothels, and has led a party committee to re-evaluate the judgment of war tribunals led by the victorious Allies.
Her link to a notorious anti-Korea group was acknowledged by a court this year in a defamation case she lost. Inada also was seen posing with the leader of a neo-Nazi group in a 2011 photo that surfaced in the media in 2014. Reports at the time cited Inada as saying she was unaware of his status and did not subscribe to neo-Nazi ideology.
Masahiro Imamura, Japan's disaster reconstruction minister, went to Yasukuni on Wednesday, also drawing criticism from Beijing.