Iraqi president flown to Germany for treatment after suffering stroke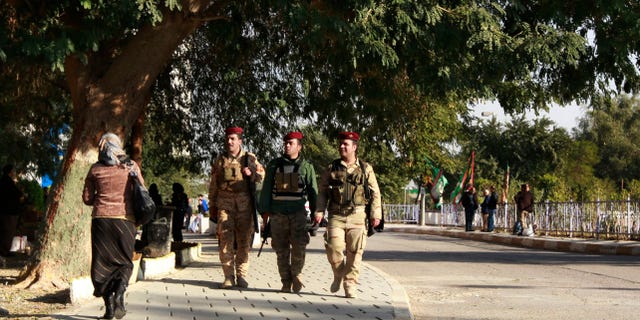 NEWYou can now listen to Fox News articles!
BAGHDAD – Iraqi President Jalal Talabani arrived in Germany on Thursday for further medical treatment after suffering a stroke earlier this week, though the seriousness of his condition remains a mystery.
The ailing 79-year-old president was rushed to a Baghdad hospital late Monday because of what was described as a medical emergency. Several Iraqi officials have said Talabani had a stroke.
He appeared to be responding to treatment and showing signs of improvement by Wednesday, his doctors and other officials said.
German Foreign Minister Guido Westerwelle said Talabani arrived Thursday morning but gave no specifics.
"I can confirm that the Iraqi President Talabani is being treated in Germany. I send him heartfelt wishes for a quick and full recovery," Westerwelle said. The Foreign Ministry would not elaborate.
Iraqi lawmaker Mahmoud Othman said Talabani flew to Berlin after a German medical team recommended he be taken abroad for treatment. It was not immediately known what German hospital Talabani would be taken to.
In a statement on its official website, the presidential office said the treatment he underwent in Baghdad "provided the right conditions for the transfer of (Talabani) out of the country for follow-up treatment in Germany." It gave no further details on his condition.
Firyad Rawndouzi, a senior member of Talabani's Patriotic Union of Kurdistan party, said Talabani left for Berlin around 6 a.m. with German medical team that had flown in the previous day.
"His health condition is stable and much better. I can't comment on details over his condition because this is left to the medical team," he said.
The presidency of Iraq is largely a ceremonial role. Prime Minister Nouri al-Maliki is the head of government.
Although his official powers are limited, Talabani is a senior Kurdish leader and has been a symbol of unity in Iraq. He has frequently used his position to mediate among Iraq's Sunnis, Shiites and Kurds, as well smaller minority groups.
Talabani is overweight and has undergone several medical procedures in recent years, including heart surgery in 2008 and knee replacement surgery this year. He has previously received treatment in Germany.
Before he fell ill, Talabani was actively involved in trying to mediate in a crisis between Baghdad and the Kurds, who have their own fighters and considerable autonomy in their enclave in northern Iraq. The two sides last month moved additional troops into disputed areas along the Kurds' self-rule region, prompting fears that fighting could break out.
Last week, Talabani brokered a deal that calls on both sides to eventually withdraw troops from the contested areas, though there was no timetable for how soon the drawdown might take place.
Iraq's parliament has the authority to choose a new president should Talabani's office become vacant. The Kurds would likely insist on retaining the presidency to maintain the government's power-sharing balance.