Hearing on Arpaio's criminal charges for targeting Latinos in patrols starts in Phoenix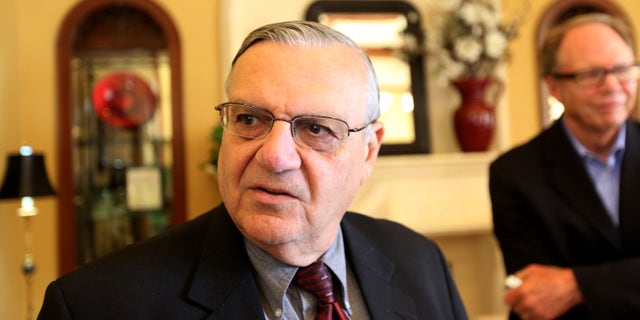 PHOENIX (AP) – A judge will hold a hearing Tuesday to discuss legal issues raised by a recommendation that prosecutors charge a famously defiant Arizona sheriff with criminal contempt of court for defying orders in a racial profiling case.
The hearing Tuesday falls the day before early voting starts in Sheriff Joe Arpaio's bid for a seventh term as metro Phoenix's top law enforcer, his toughest fight yet after more than two decades in office. Arpaio, who calls himself "America's Toughest Sheriff," made a name for himself cracking down on illegal immigration and forcing jail inmates to wear pink underwear.
U.S. District Judge Susan Bolton called the hearing to discuss issues raised by another judge's request that Arpaio face criminal contempt charges after refusing to stop targeting Latinos in patrols.
Arpaio has acknowledged violating the order from U.S. District Judge Murray Snow but insists it wasn't intentional. Snow disagreed, concluding Arpaio knowingly continued the patrols because he believed his immigration enforcement efforts would help his 2012 re-election campaign.
Requests for comment from the sheriff's office and his re-election campaign were not immediately returned Monday night.
Snow also requested criminal charges against Arpaio and his second in command, Jerry Sheridan, for withholding 50 hard drives in a secret investigation that critics say targeted Snow.
The racial profiling lawsuit that Arpaio lost more than three years ago morphed into a contempt case after the sheriff was accused of violating court orders. It revealed deep flaws in Arpaio's internal investigations, which Snow said had been manipulated to shield sheriff's officials from accountability.
County taxpayers have shelled out $48 million so far in the profiling case, and the costs are expected to reach $72 million by next summer. That includes $17 million in spending ordered by Snow to make changes to the agency.
Arpaio would face up to six months in jail if convicted of misdemeanor criminal contempt and an unspecified sentencing range if such a conviction is deemed a felony.
A felony contempt conviction would force Arpaio from office, while he could remain sheriff with a misdemeanor conviction. If prosecutors charge him, the case is not expected to be designated as a misdemeanor or felony until later.