French presidential vote: Prosecutors investigating 'fake news'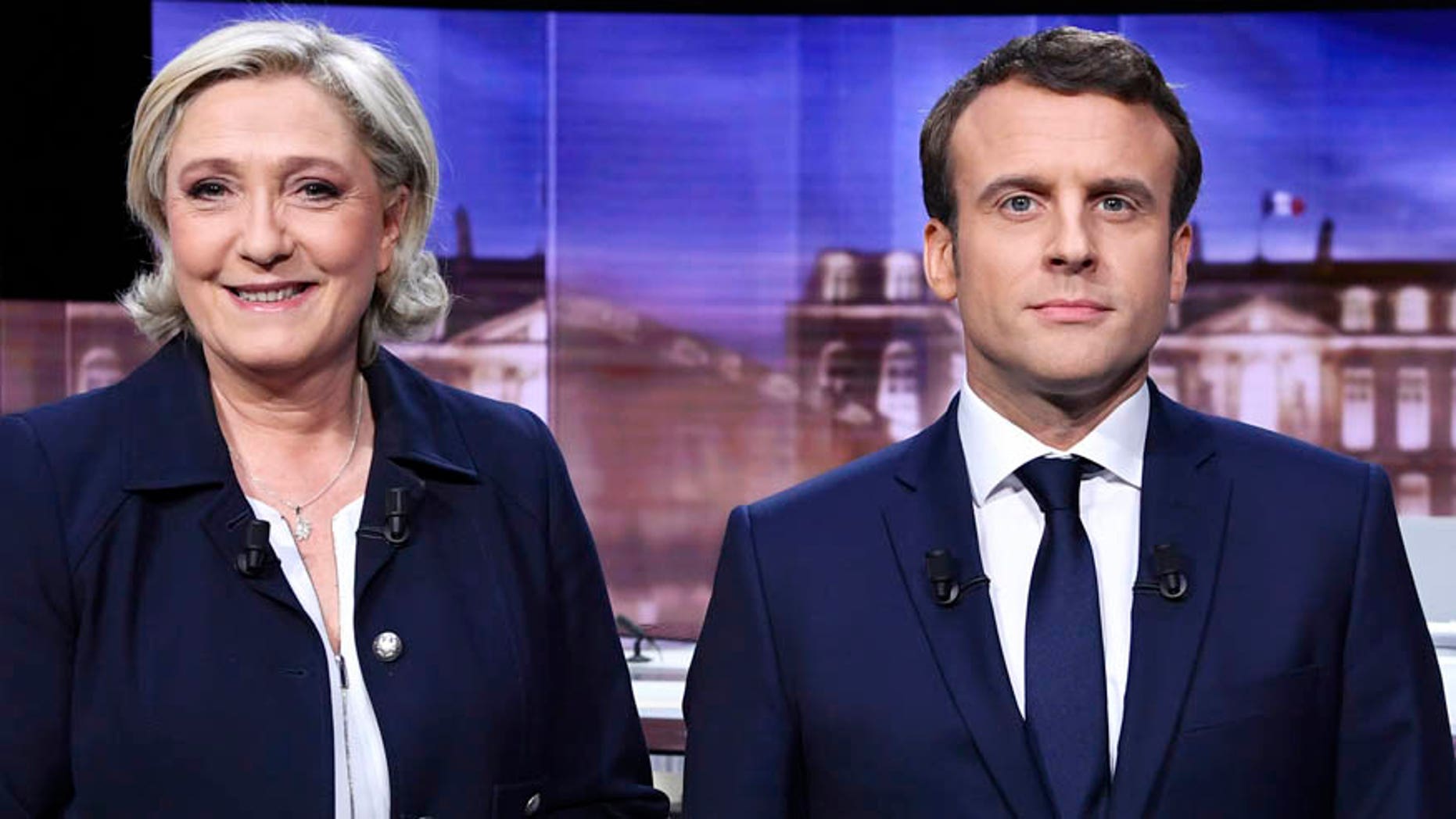 French prosecutors launched an investigation Thursday into whether fake news could improperly affect voting ahead of the country's presidential election -- after far-right candidate Marine Le Pen referenced claims that Emmanuel Macron could be holding an "offshore account in the Bahamas."
Le Pen made the comment about her centrist opponent during a televised debate Wednesday night, as both candidates threw insults and attacks at one another.
"I hope we don't discover you have an offshore account in the Bahamas," far-right candidate Marine Le Pen said.
MARINE LE PEN, EMMANUEL MACRON SPAR IN FRANCE PRESIDENTIAL DEBATE
Macron responded that the statement was a form of "defamation."
Thursday morning, Macron took action and filed a complaint against the allegations. Prosecutors will be looking at whether the fake news is being used to influence the election that's three days away.
Macron's camp said the former investment banker was the victim of a "cyber misinformation campaign." He continued to defend himself against the rumors on a French radio station Thursday morning, AFP reported.
FRENCH PRESIDENTIAL CHOICE: RISK LE PEN OR SETTLE FOR MACRON
"I have never had accounts in any tax havens whatsoever, firstly because it is not in my nature and secondly because I have always wanted to return to the public domain," Macron said.
Le Pen also backed away from her words Thursday morning, admitting that she had no proof Macron was holding an offshore Bahamas account.
Wednesday's face-to-face debate was a nasty two-hour war of words between Le Pen and Macron. The candidates often attacked each other personally than on their policy platforms.
"You're trying to play with me like a professor with a pupil," Le Pen said at one point in response to Macron's claim that she didn't understand business and finance.
Macron called his far-right opponent a "parasite" and "the high priestess of fear."
"Your project consists of telling the French people, 'This person is horrible.' It's to cast dirt. It's to lead a campaign of lies and falsifications. Your project lives off fear and lies. That's what sustains you. That's what sustained your father for decades. That's what nourished the extreme right and that is what created you," Macron said.
Despite the Bahamas bank account controversy, Macron, who leads Le Pen in the polls, has earned a major endorsement -- former president Barack Obama.
"I'm not planning to get involved in many elections now that I don't have to run for office again, but the French election is very important to the future of France and the values that we care so much about," Obama said in a message posted on Macron's Twitter account on Thursday.
"I have admired the campaign that Emmanuel Macron has run. He has stood up for liberal values. He put forward the vision for the important role that France plays in Europe and around the world. And he has committed to a better future for French people. He appeals to people's hopes, and not their fears," the message said.
The Associated Press contributed to this report.