Duterte threatens to humiliate the media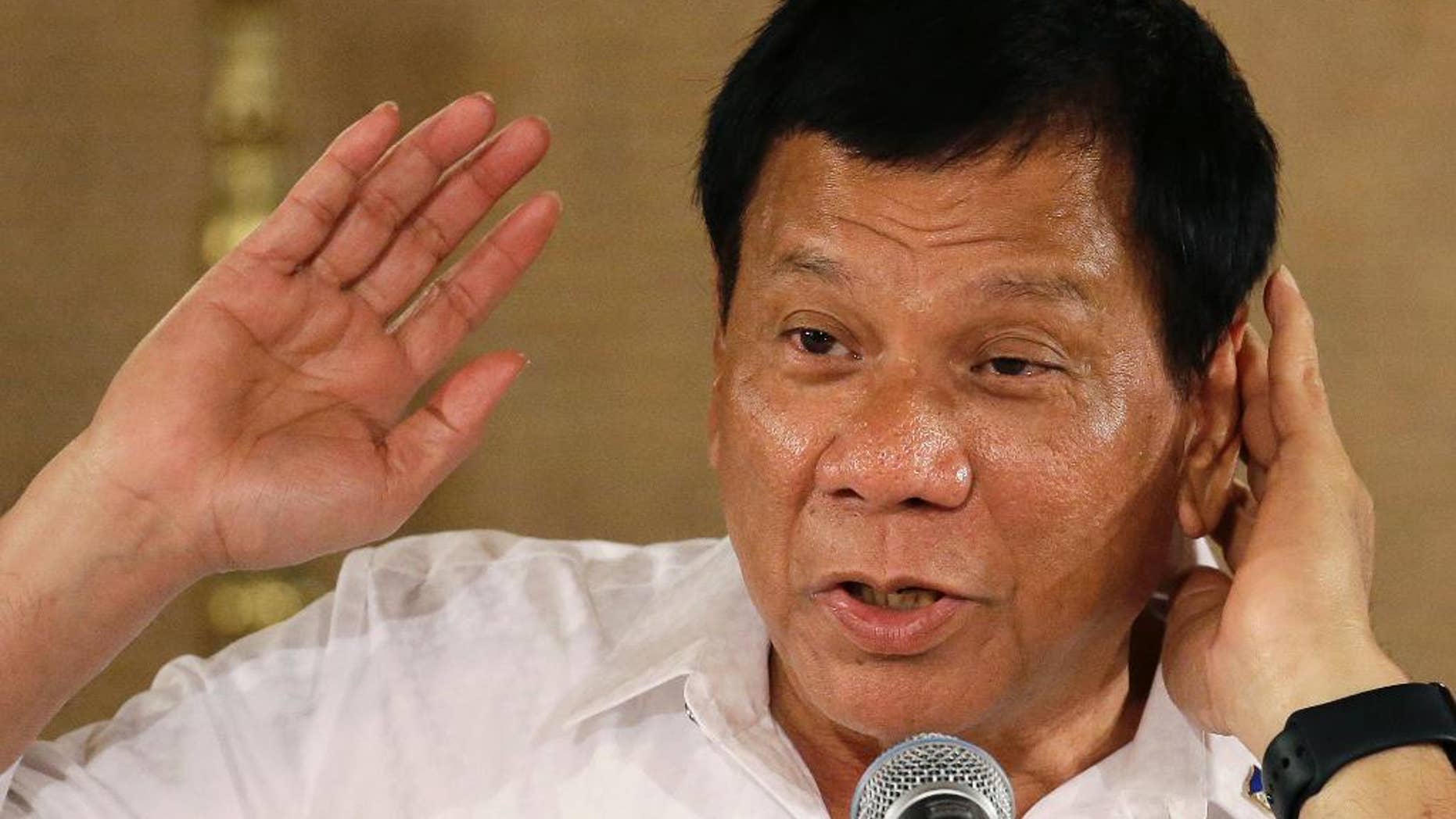 MANILA, Philippines – The Philippine president unleashed an expletive-laden tirade Thursday against the country's leading newspaper and TV network and threatened to humiliate them and their owners, whom he accused of distorting news of his anti-drug crackdown.
WARNING: CONTAINS PROFANITY
President Rodrigo Duterte's outburst against the Philippine Daily Inquirer and ABS-CBN TV network in a nationally televised speech prompted a media watchdog group to call him a "petty tyrant, who mistakenly believes public office is an entitlement that allows you to flaunt the laws of the land."
Duterte, who has had a thorny relationship with journalists, complained that his anti-drug campaign has been portrayed as targeting the poor. He also was incensed about accounts of his alleged corruption, saying he will resign if reports of undeclared bank deposits are proven.
DUTERTE TO UNITED STATES: WHY DIDN'T YOU SEND ARMADA VS CHINA ISLANDS?
Calling the owners of the Inquirer and ABS-CBN "fools," Duterte threatened to curse them and use the state-owned TV network to ridicule them "to get even."
"There are press (people) who are sons of bitches and who know nothing but lies," he said in a speech at the oath-taking of government officials at Manila's presidential palace.
DUTERTE WANTS IMPEACHMENT BIDS AGAINST PHILIPPINE VP STOPPED
"Inquirer, you've never been fair. I know that it's supposed to be antagonistic but fair? You're rude," Duterte said. "ABS-CBN is also rude, really rude."
Presidential palace staffers deleted the expletives and curses in an official transcript of the speech they sent to news agencies.
Duterte's crackdown, which has left thousands of mostly petty drug suspects dead, has alarmed Western governments and prompted U.N. rights officials to consider an investigation.
Duterte, who has denied condoning extrajudicial killings but has repeatedly threatened drug suspects with death, has lashed out at the U.S., EU and other critics.
The 72-year-old leader, who won the presidency last year after serving as a city mayor for two decades, also fumed about news reports that speculated about the nature of his illnesses, and suggested that older people naturally develop health problems. He became visibly infuriated over a picture of him in his bedroom with an oxygen machine.
Duterte has acknowledged suffering from illnesses linked to smoking and a motorcycle accident in the past, but has refused to issue a detailed statement on his health.
Philippine Daily Inquirer Executive Editor Jose Ma. Nolasco said in a statement that it has been fair in its coverage of Duterte and his administration and has always included his side in any controversy. He said the newspaper runs a column on its opinion page in which Cabinet officials expound on government policies.
There was no immediate statement from ABS-CBN.
The National Union of Journalists of the Philippines said Duterte's "foul-mouthed rant" against the two major news organizations "was absolutely twisted," adding it was the president who was rude and abusive.
"It was a brazen abuse of your immense power as chief executive of this land and only shows how little, if any, appreciation you have of democracy and governance," the group said.
It said Duterte's curses and threats would not prevent Filipino journalists from doing their work.
The dominant Roman Catholic church, which has criticized Duterte's drug crackdown, also came under fire from Duterte, who urged the audience to read a book about Filipino bishops and priests who were accused of sexual abuse, corruption and other wrongdoing.
"You read it and if you're still a Catholic the next day, you'll impress me," Duterte said.