Charles jokes royal baby 'hopefully' on the way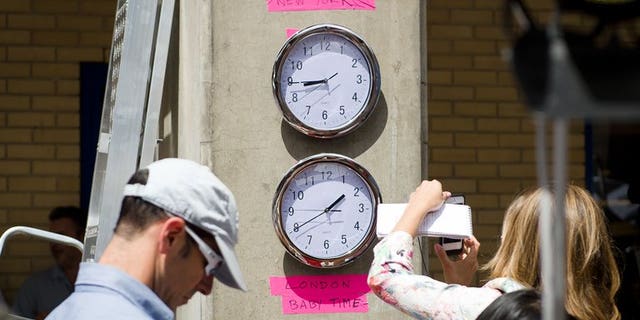 LONDON (AFP) – Britain's Prince Charles joked Monday that his son Prince William's baby was "hopefully" on its way as the kingdom feverishly awaits the new arrival.
With William's wife Catherine due to give birth any day, Charles, the Duke of Cornwall, and his wife Camilla kicked off their annual summer tour of the southwest English county and neighbouring Devon.
On their visit to the seaside town of Bude, the heir to the throne came face-to-face with some newborns.
Bude resident Trudi Lindsay brought along her three-week-old baby Ellie-Mae to see the royals.
"I said, 'You have got one of these coming soon' and Charles replied 'Hopefully', then he laughed," she said.
"He was very good with Ellie-Mae, he touched her cheek."
Charles and Camilla drew loud cheers from the flag-waving crowds as they walked through the town.
Jenny Dawe, 62, who works in a local shop, showed the royals her selection of cards.
"I said, 'You will need a new baby card soon' and they laughed," she recounted.
New parents Poppy and Paul Steen brought their five-day-old son Lowen to meet the royal couple.
"Lowen wasn't supposed to be born today but he came on Wednesday and I had to deliver him at home," said Paul Steen.
"The midwife did joke that he might arrive on the same day as Kate's and we might get a commemorative coin but Lowen wasn't waiting for that."
All babies born on the same day as William and Kate's imminent arrival can register to receive a free lucky silver penny from the Royal Mint, worth ??28 ($42.25, 32.40 euros).