At least 6 soldiers killed in attack at Ivory Coast army base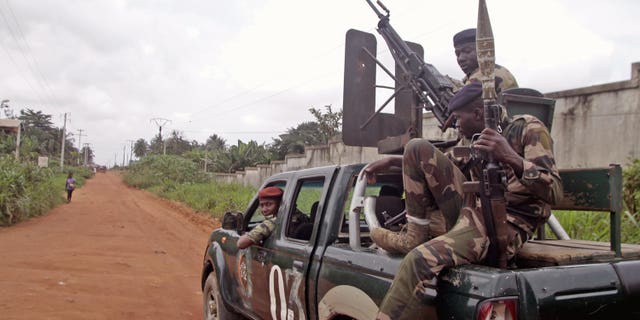 ABIDJAN, Ivory Coast – Gunmen assailed an army base in Ivory Coast's commercial capital on Monday killing at least six soldiers, officials said, in another brazen attack on the country's most important city.
Interior Minister Hamed Bakayoko told journalists Monday afternoon that six soldiers and one attacker had been killed. He said the attack at the Akouedo military camp in Abidjan's Riviera neighborhood had taken soldiers by surprise. "It was a surprise attack from the two main gates of the camp," he said.
The attack comes a day after five soldiers were killed in similar raids in the Abidjan neighborhood of Yopougon. Bakayoko said that President Alassane Ouattara had convened an emergency meeting of the heads of the country's security forces.
There has been no claim of responsibility for the attacks, but military officials said over the weekend that they believe the assailants are allied with the country's recently toppled ruler, Laurent Gbagbo, who had to be forcibly removed from power last year after refusing to accept his defeat at the polls.
Pro-Gbagbo militias have carried out numerous attacks in the country's troubled west, but the back-to-back clashes on Sunday and Monday mark the first major fighting inside the country's most important city since Gbagbo was ousted in April 2011.
Witnesses said the shooting on Monday began at around 3 a.m. and lasted nearly five hours.
"It was too much. It lasted from 3:10 a.m. to 8 in the morning," said 59-year-old Alex Ouraga, who lives in a neighborhood adjacent to the camp. "I thought building a house near a military camp should've been safe, but that's not the case."
Hyacinth Amba, 39, said he heard the shooting start at about 3:30 a.m. "They were not using heavy weapons at first," he said. "But then people came to reinforce the military's position - some in trucks and some by foot. When these people came, they entered with large rockets."
Military officials have speculated that the attacks were timed to coincide with Ivory Coast's Independence Day on Tuesday.
National Assembly President Guillaume Soro's Twitter account said the attacks were "intended to give the impression that the security situation is still precarious."
Soro contended early Monday that the situation was under control, saying, "These are the last spasms."
But military spokesman Moussa Cherif warned of future violence, saying the attackers had completely raided the camp's armory.
"This is a very important camp for the national army, and they raided the armory," he said. "They took RPGs, AK-47s. This is the reason why I'm telling you the future will be hard. What do you think they're going to do with the weapons? They're not going to play with them."
Cherif said the various attacks in Abidjan and a separate attack Sunday on a military camp in eastern Ivory Coast appeared to have been planned well in advance. "It's quite clear that these successive attacks are well organized and well planned," he said.
Ivory Coast was rocked by violence that claimed some 3,000 lives after ex-president Gbagbo refused to concede electoral defeat to Ouattara in the November 2010 election.
Security officials at the camp turned journalists away Monday morning, and a live electrical wire had been laid out in front of one of the camp's entrances. In Yopougon, where Sunday's attacks occurred, checkpoints that normally operate only at night were still in place Monday morning. Blood could still be seen on the ground in front of the entrance to a police station that was attacked, along with bullet holes in the door and an exterior wall.
Rene Legre Houkou, president of the Ivorian Human Rights League, said the attacks were further evidence of lingering political divisions in Ivory Coast - divisions he said had been exacerbated by one-sided justice for postelection crimes. To date, no Ouattara supporters have been indicted at the international or national level for postelection crimes, despite evidence that both sides committed atrocities.
"We must not minimize the acts that are taking place these days," Houkou said. "For us, they are signals that there is something wrong with the system."