Wyoming Highway Patrol officials seize more than $7M worth of marijuana during traffic stop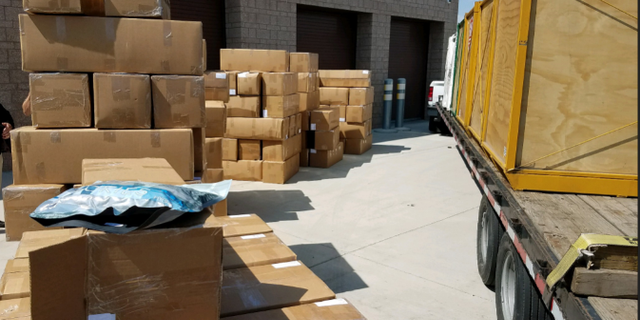 Officials with the Wyoming Highway Patrol seized more than $7 million worth — about 1,849 pounds — of marijuana during a traffic stop on Wednesday.
Around 11:30 a.m., a trooper with the state's highway patrol stopped a Dodge Ram pickup truck that was pulling a flatbed trailer. During the inspection, the trooper's K-9 officer was "alerted to the odor of narcotics within the load of the trailer," the Wyoming Highway Patrol said in an online statement.
HUMAN REMAINS IN PLASTIC BAGS FOUND IN 2 NYC PARKS BELIEVED TO BE SAME WOMAN, POLICE SAY
Further investigation revealed a massive amount of marijuana, which highway patrol officials said had an estimated street value of $7.3 million.
The Wyoming Division of Criminal Investigation and the Wyoming Highway Patrol are currently investigating the case.
VIRGINIA POLICE OFFICER CHARGED IN DEATH OF 6-MONTH-OLD DAUGHTER
Marijuana is currently illegal both recreationally and medically in Wyoming. Washington, Oregon, California, Nevada, Colorado, Alaska, Massachusetts, Vermont, Maine and the District of Columbia have broadly legalized cannabis, while others have either decriminalized usage or have legalized it only for medicinal purposes.